Bathroom Renovation Projects That Are a Real Give and Take for Cleveland, OH, Homeowners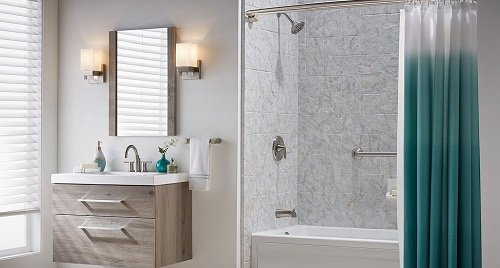 When you envision a bathroom renovation, what do you picture? A luxurious walk-in tub? Gleaming new fixtures? Low-maintenance showers that surround you with opulence and enough water jets to make a dishwasher envious? Or are your bathroom renovation dreams more about what you don't see: no more rusted faucets, scummy tiles, blackened grout, and outdated hardware?
At Bath Depot Cleveland, we can complete a bathroom renovation for your home in Cleveland, Ohio, that's the ideal combination of removing the old and introducing the new. We're a high-integrity bathroom remodeler specializing in one- and two-day renovations that transform old bathing spaces into breathtaking centerpieces without the need for major demolition and reconstruction. As the region's bath authority, we've earned the trust and appreciation of countless satisfied customers by providing The Red Carpet Treatment. That means we offer only quality BathWraps products expertly installed and backed by the best warranties in the business, so you will have peace of mind knowing your investment is protected.
Hassle-Free Bathroom Transformations
When you reach out to Bath Depot Cleveland for a bathroom renovation, your project will begin with a no-obligation consultation. Our representative will inspect your bathroom, discuss your renovation goals, and review all of your options. We specialize in:
Tub and shower replacement – Our team can replace your old tub with a new acrylic model, install grout-free acrylic wall surrounds, and complete the project with updated showerheads, faucets, and a plethora of convenience options such as built-in storage and grab bars.
Tub-to-shower conversions – If your tub goes unused most of the time, we can replace it with a low- or no-threshold shower that improves accessibility and gives your bathroom a sleek, modern aesthetic.
Walk-in tubs – For homeowners who love a good soak but find it difficult to step over the rim of a traditional tub, a walk-in model may be the perfect solution. With their watertight doors, these bathing enclosures provide a spa-like environment that's the very epitome of luxury.
Why wait any longer to begin your bathroom renovation? Contact Bath Depot Cleveland today to get the ball rolling on your home improvement project. When it comes to stress-free bath renovations, we're the authority homeowners in Cleveland, OH, can rely on.