A Bathroom Remodel Will Transform the Look of Your Westlake, OH, Bathroom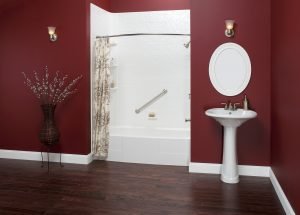 If the bathing area in your bathroom is not working properly, dirty, outdated, or just not meeting your functional or aesthetic needs, it's time to turn to the professionals at Bath Depot Cleveland for a bathroom remodeling solution. Serving homeowners in Westlake, Ohio, and the surrounding areas, Bath Depot Cleveland takes pride in providing top-of-the-line products combined with outstanding customer service to help you create the bathroom of your dreams. Just place a call to us and we'll come out to your home for a free, no-obligation consultation where we will listen to your goals, educate you about our products, and work collaboratively with you to come up with a solution that will meet all of your needs.
Find the Right Bathroom Remodel Solution for You
When you decide to work with us for your bathroom remodel, you will be able to choose from the following bathroom upgrades:
Bathtubs – We offer gorgeous bathtubs that can come in a plethora of styles, patterns, colors, finishes, and more, so that you can create a bathtub that's customized just for you. We even have walk-in tubs available for those who prefer this option.
Showers – From the shower base and wall surround to the faucets, fixtures, door, accessories, and more, you'll be able to customize your new shower from top to bottom.
Tub-to-shower conversion –Would you rather have a shower instead of your old bathtub? No problem, we can convert your tub into a shower so that you can start bathing the way you want.
What's more, all of our bathing products are made from an acrylic material that won't fade, crack, or chip, and are also infused with an antimicrobial agent that helps to inhibit the growth of mold, mildew, and bacteria. So, you can feel confident that your new bathing products will be easy to clean and will look like new for years to come.
To learn more about the bathroom remodel services we have available to homeowners throughout the Westlake area, contact the professionals at Bath Depot Cleveland today.