Bathroom Remodels That Are a Real Give and Take for Berea, OH, Homeowners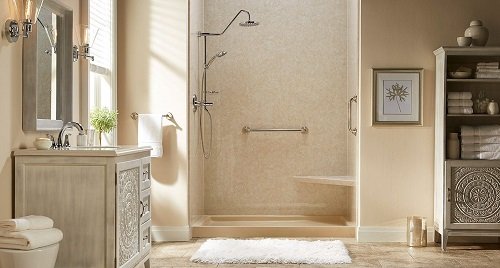 When you envision a bathroom remodel for your home in Berea, Ohio, what do you picture? A luxurious walk-in tub? Gleaming new fixtures? Low-maintenance showers that surround you with opulence and enough water jets to make a dishwasher envious? Or are your bathroom renovation dreams more about what you don't picture: rusted faucets, scummy tiles, blackened grout, and outdated hardware?
At Bath Depot Cleveland, we can complete a bathroom remodel for your home that's the ideal combination of removing the old and introducing the new. We're a locally owned company that quickly established itself as the premier bathroom contractor serving homeowners throughout northeast Ohio. Since opening our doors, we've earned the trust and appreciation of our ever-growing list of satisfied customers by providing what we like to call "The Red-Carpet Treatment." It's all part of our commitment to treat homeowners with the same courtesy, respect, and honesty we would a member of our own family.
One-Day Bathroom Renovations That Provide a Lifetime of Benefits
Bath Depot Cleveland is the only authorized BathWraps dealer in the region, which makes us the only company you can turn to for these popular bathroom options. We specialize in several one-day bathroom remodels such as:
Bathtub replacements – If your tub is scuffed, stained, and outdated, we can replace it with a new acrylic model that will resist scratching and hard-water deposits.
Shower replacements – Ready for a shower that looks great and performs flawlessly? We'll not only replace all the hardware, but also install gorgeous new, grout-free wall surrounds that will wash clean with just a damp cloth and mild cleanser.
Tub-to-shower conversions – These increasingly popular options can improve safety and convenience by eliminating the need to step over a barrier to bathe.
Walk-in tubs – The ultimate in easy entry and luxury, our walk-in tubs are mini-spas, with massaging jets that relax tight muscles and soothe aching joints.
Why wait any longer to begin your bathroom remodel? Reach out to Bath Depot Cleveland today to arrange for one of our design representatives to visit your home in Berea, OH. Together we can turn your renovation project into a showering success.