Bathroom Remodel Specialists Serving Residents in Avon Lake, OH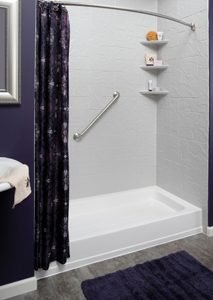 If you're unsatisfied with the way your current bathing area looks, functions, or both, it's time to turn to the experts at Bath Depot Cleveland for a bathroom remodel. We are a locally owned and operated company helping homeowners in the Avon Lake, Ohio, area get the bathroom they've always dreamed of. We have partnered with BathWraps™, a leading name in the tub and shower industry to provide you with high-quality bathtubs, walk-in tubs, and showers that will not only enhance the look of your bathroom but will also increase the enjoyment you get while bathing.
Benefits of Our Bathing Products
When you choose to have one of our tubs or showers installed in your home, you will be happy with your decision because they are all:
Durable – Made from a 100% acrylic material, our tubs and showers won't fade, crack, chip, or dent.
Easy to clean – Infused with an antimicrobial agent that prohibits the growth of mold, mildew, and bacteria, our tubs and showers can easily be cleaned by just wiping them down on occasion.
Customizable – Available in a number of different threshold heights, colors, accessories, and more, you can customize your new tub or shower to meet your functional needs and aesthetic preferences.
Why Choose Us for Your Bathroom Remodel?
When you decide to work with Bath Depot Cleveland for your bathroom remodel project, you can feel confident in your decision because of our:
Excellent customer service –You can count on receiving red carpet treatment throughout the entire process, and we'll go above and beyond to ensure your complete satisfaction every step of the way.
Expert installation – Our factory-trained and -certified installers will install your new tub or shower, or perform a tub-to-shower conversion flawlessly so that it functions perfectly. What's more, our tubs and showers can usually be installed in just a day or two, minimizing the inconvenience to your home and allowing you to start enjoying your new tub or shower almost immediately.
Great reviews – We have earned countless great reviews from our past customers, allowing you to feel confident in your decision to work with us.
Contact Us Today
To learn more about the bathroom remodel services we provide to homeowners throughout the Avon Lake, OH, area, contact Bath Depot Cleveland today.