Professional Bathroom Remodel Services Available for Homeowners in Lakewood, OH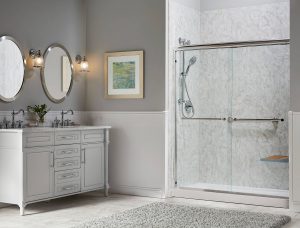 Taking a shower or bath has long been one of the most enjoyable ways to unwind after an exhausting day. But if your bathing area is dirty, unsightly, or not functioning correctly, the thought of a shower or bath might not be all that inviting. If this the case, it's time to turn to the professionals at Bath Depot Cleveland for your bathroom remodel in Lakewood!
Serving homeowners in Lakewood, Ohio, and surrounding areas, we specialize in providing high-quality bathroom remodeling services, combined with caring customer service. Just place a call to us and we'll come out to your home for a complimentary consultation during which we will listen to your needs and help you choose the perfect bathing option to meet them all.
Quick & Long-Lasting Bathroom Remodel Options
While you may be longing for a new tub or shower, the thought of undergoing a long and tedious bathroom remodeling project that will have your bathroom under construction for weeks or even months may be stopping you from pulling the trigger. At Bath Depot Cleveland, we can upgrade your bathing area in just a day or two, minimizing the amount of time that your bathroom is under construction and allowing you to start enjoying your new tub or shower almost immediately. We offer the following upgrades:
Bathtub replacements
Shower replacements
Walk-in showers
Tub-to-shower conversions
What's more, our products are made from an extremely durable acrylic material that resists cracking, chipping, and fading. Plus, they are infused with an antimicrobial agent that prohibits mold, mildew, and bacteria growth, making them easy to keep clean.
Don't have the funding for your needed bathroom remodel today? No problem! Ask us about our financing options…choose from 0% financing or a low monthly payment plan…we're happy to work with you on a bathroom remodeling that suits your needs and your budget!
Learn More
If you would like to learn more about the bathroom remodeling options we have available to homeowners throughout the Lakewood, OH, area, contact Bath Depot Cleveland today!
Interested in case studies, bathroom remodeling ideas, and customer testimonials? Follow our Facebook page today!