Gorgeous Bathroom Remodeling Services Available to Homeowners in Brunswick, OH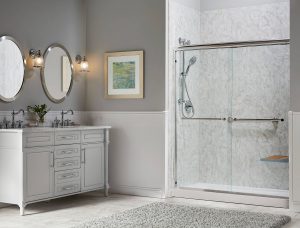 At Bath Depot Cleveland, we offer homeowners in Brunswick, Ohio, and the surrounding areas a variety of bathroom remodeling options that can upgrade the overall appearance and functionality of their bathrooms. If you've been looking to remodel your bathroom, but the thought of a long and pricey full bathroom remodeling project has stopped you from going through with it, then this is the perfect option for you. Not only will remodeling just the bathing area of your bathroom enhance your bathing experience and give your bathroom a brand-new look, but it can also be completed in just a day or two. This means you won't have to deal with the inconvenience of having your bathroom under construction for a long period of time and you'll be able to start enjoying your new tub or shower as soon as possible.
High-Quality Bathroom Remodeling Options
At Bath Depot Cleveland, we have a number of bathroom remodeling options you can choose from, including:
Shower replacements
Bathtub replacements
Tub-to-shower conversions
Shower-to-tub conversions
Walk-in showers
­­­­­­­­­­­­­­­­­­­All of our bath and shower products are constructed from durable acrylic and won't crack, chip, dent, or fade, so you can count on them looking like new for years to come. Plus, they can be customized with a number of accessory and color options, so you'll be able to design new bathtub or shower that meets all of your functional and aesthetic needs.
Give Us a Call Today
For more information about the bathroom remodeling services we offer to homeowners throughout the Brunswick, OH, area, contact Bath Depot Cleveland today. We would be happy to schedule an in-home consultation to discuss your project with you in more detail and answer any questions that you might have.