Bathroom Remodels for Homeowners in Middleburg Heights, OH, That Will Continue to Look Great Year After Year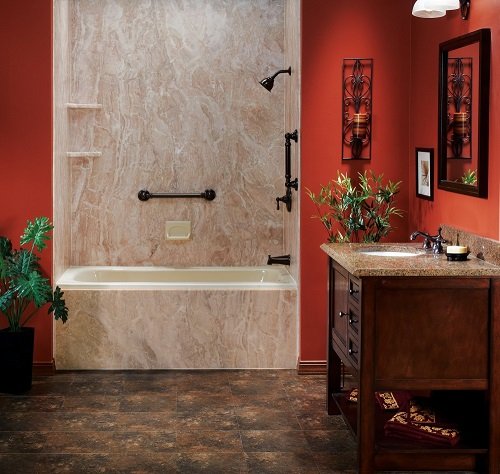 If you're researching a bathroom remodel for your home in Middleburg Heights, OH, you've probably already seen dozens, maybe even hundreds of pictures depicting beautiful new bathrooms of every shape and size. From quaint, cottage-style power rooms to luxurious master baths, these images undoubtedly featured a vast array of styles, accessories, and materials. But the one thing they all had in common was the immaculate condition of the bath. Everything was clean and tidy, which is what you would expect after a bathroom remodel.
The question is, how long will a new bathroom stay that way? Will it retain its beauty, luster, and most importantly its sanitary condition long after the bathroom renovations are complete, or will it begin the slow slide toward grunginess almost as soon as the installers leave? While we can't guarantee your spouse or children will keep the room spotless, at Bath Depot Cleveland, we can promise that all of our bathroom remodeling products are engineered to remain beautiful and hygienic for as long as you own your home.
Pristine Beauty Without the Backbreaking Maintenance
Bath Depot Cleveland specializes in one-day bathroom remodels that provide big benefits without the hassles of having to gut your bathroom and start all over. These include tub and shower replacements, tub-to-shower conversions, and the installation of walk-in tubs and showers. No matter which update is right for you, your new bathing enclosure and wall surrounds will:
Never rot, warp, crack, chip, or stain
Resist the growth of mold and mildew
Clean up easily, without the need for scrubbing or the use of harsh chemicals
Be infused with Silver Shield™ antimicrobial protection, a state-of-the-art, non-toxic agent that uses silver ions to permanently hinder the proliferation of bacteria
What's more, you'll be able to customize your new enclosure with accessories such as grab bars, built-in tower caddies, bench seats, and luxury showerheads, enhancing their convenience, safety, and performance.
For a bathroom remodel that is more than just picture perfect, contact Bath Depot Cleveland today and schedule a no-obligation consultation with one of our knowledgeable designers, because homeowners in Middleburg Heights, OH, deserve a clean break from their old baths.