Bathroom Remodel Services Available for Homeowners in Rocky River, OH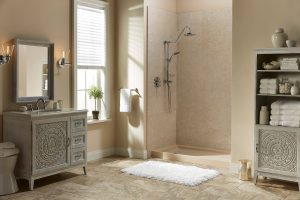 Has the bathtub or shower in your home seen better days? Is it stained, cracked, or just not meeting your needs? If so, the bathroom remodel services provided by Bath Depot Cleveland can breathe new life into your bathroom with a gorgeous new bathtub or shower. We are a locally owned and operated bathroom remodeling contractor serving residents throughout the Rocky River, Ohio, area, helping them choose the best bathing solutions to meet their needs and budget. When you partner with us, we can typically complete your bathroom remodel in just a day or two, so you won't have to deal with the hassle and inconvenience of a full bathroom remodel.
Bath Depot Cleveland can provide the following bathroom makeover upgrades:
Bathtub Replacements
Replace your old and unattractive bathtub with one of our beautiful replacement tubs. Not only are our tubs stylish, but they are also low maintenance and extremely durable — they won't fade, dent, chip, or crack.
Shower Replacements
Select from a variety of wall surrounds and accessory options to create a shower that is customized to meet both your functional and aesthetic preferences. Plus, because our showers are infused with an antimicrobial agent that resists mold, mildew, and bacteria growth, they are very easy to clean.
Tub-to-Shower Conversions
If you currently have a bathtub but would rather have a beautiful and modern shower, we can make that happen with a tub-to-shower conversion. Our installers can convert your old bathtub for a brand-new shower so you can bathe just the way you want.
Contact Us Today
For more information about the bathroom remodel services we have available to homeowners throughout the Rocky River, OH, area, contact Bath Depot Cleveland today. We look forward to working with you to give you the bathroom of your dreams.