Bathroom Remodels That Will Make Homeowners in Rocky River, Ohio, Forget All About Their Bathroom's Former Imperfections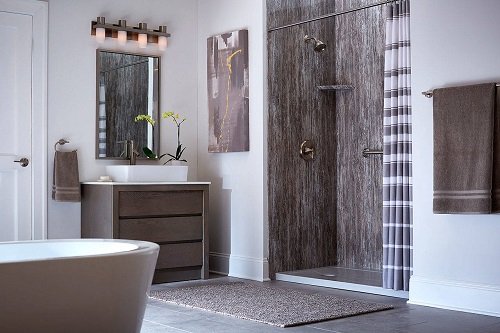 What will you miss most after your bathroom remodel? Will it be the rusty showerhead that trickles water one miserly drop at a time from a battered fixture? Will it be the crooked corner caddie that regularly sends soap bars and shampoo bottles tumbling to the floor? Or maybe it will be that hard-water stain on the tub that bears an uncanny resemblance to Abraham Lincoln?
All joking aside, there's absolutely nothing Rocky River, Ohio, homeowners will miss after a bathroom remodel by Bath Depot Cleveland. Our experienced team of installation experts are meticulous, thorough, and conscientious. We strive for the highest level of craftsmanship on every project, never cutting corners or taking shortcuts. It's all part of what we call The Red Carpet Treatment.
Step Into a World of Possibilities
When you entrust Bath Depot Cleveland with your bathroom remodel, one of our knowledgeable designers will visit at your convenience to discuss your renovation priorities, preferences, and goals. After reviewing the many options we offer, we'll tailor a plan that fits your budget and accomplishes all of your objectives.
We specialize in such bathroom remodels as:
Tub replacement – Whether you want to replace your current tub with a new tub, a walk-in tub, or a shower enclosure, we can complete the job quickly and efficiently, often in as little as a single day, minimizing any disruption to your daily routine.
Tub and shower surround installation – Our beautiful BathWraps wall surrounds are made from 100% acrylic, a nonporous material that will never stain, crack, rot, or warp for as long as you own your home.
Updating fixtures and faucets – Brushed nickel and polished brass are just two of the finishes available to add a touch of elegance to your sink, shower, or tub.
A bathroom remodel is an investment in the future. If you're ready to put your outdated bathing space in the rearview mirror, contact Bath Depot Cleveland today to learn more about what's possible when you turn to us to renovate a bath in your Rocky River, OH, home. And don't worry too much about saying goodbye to your old tub and shower. We promise you won't miss a thing!