Top-Notch Bathtub Replacement Services for Homeowners in Parma, Ohio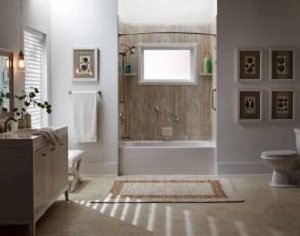 Bathtubs should be places where Parma, OH, homeowners can relax and rejuvenate as the tensions of the day melt away. But when tubs become chipped, scratched, or permanently stained, when their hardware becomes corroded and outdated, when the grout along surrounding walls blackens with mildew and the tiles begin to come loose, the thought of lingering in such spaces may send chills down the spine. At Bath Depot Cleveland, we believe underused bathtubs are opportunities lost. That's why our bathtub replacement services include a wide variety of premium acrylic basins and liners that transform dingy bathing spaces into beautiful oases. No matter how you envision your ideal tub, we can install a made-to-order enclosure that fulfills all your renovation goals while fitting your budget.
A Day to Install, a Lifetime to Enjoy
When you reach out to Bath Depot Cleveland for a bathtub replacement, your project will begin with a complimentary design consultation. One of our representatives will visit your home to review all of the many style and accessory options that are available for your new tub and wall surrounds. We are the exclusive BathWraps™ dealer for our area and offer the company's entire line of premium products, all of which are:
Hygienic – Infused with Silver Shield™ anti-microbial protection, this non-toxic additive uses silver ions to continually hinder the proliferation of bacteria.
Durable – Made from 100% virgin acrylic, your new bathing space will never warp, chip, crack, or peel for as long as you own your home.
Easy to clean – Since their surfaces are non-porous, mold and mildew have no place to anchor and grow, so clean up requires little more than a few swipes with a damp cloth.
Customizable – Built-in corner caddies, grab bars, foot pedestals, and extra-wide soap dishes are just a few of the options available to upgrade your tub.
Additionally, most bathtub replacement projects can be completed in as little as a day or two. And every tub is backed by a limited lifetime warranty, so you'll be able to enjoy your luxurious new bathing space knowing your investment is well protected.
To learn more about our bathtub replacement services, contact Bath Depot Cleveland today to schedule your no-obligation initial meeting. And be sure to ask about financing options available to qualified Parma, OH, customers.