Bathtub Replacement Services That Provide All the Ingredients for Success for Homeowners in North Ridgeville, OH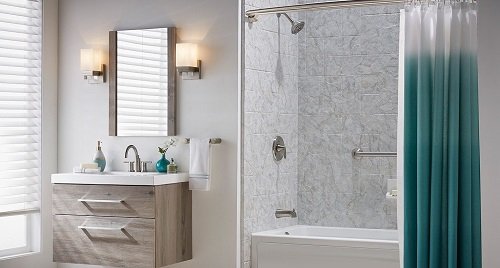 Are you preparing to remodel a bathroom in your North Ridgeville, Ohio, home? If so, we'd like to offer a word of advice – acrylic. Chances are, if your current bath is more than 30 years old, the two most prevalent materials used in its outfitting are ceramic and porcelain. In fact, these two old bathroom standbys may very well be the reason you're considering a bathtub replacement to begin with. Ceramic tiles look great when they're first installed, however, their porous surfaces encourage the growth of mold and mildew. And, while porcelain is easy to clean, it's also easy to chip and crack.
The Benefits of Acrylic Bathroom Upgrades
This leads us back to acrylic. At Bath Depot Cleveland, we offer several innovative BathWraps products for your bathtub replacement that are made from this durable and versatile material. Whether it's a luxurious soaking tub, a stylish, low-threshold shower, or a custom wall treatment, you'll quickly discover the many advantages non-porous acrylic has over other materials. Our acrylic bathing enclosures:
Will not chip, crack, or stain for as long as you own your home
Clean up easily without the need for vigorous scrubbing or the use of strong chemicals
Come infused with Silver Shield™ antimicrobial protection to inhibit the growth of bacteria
Resist the growth of mold and mildew
Retain heat 30% longer than non-acrylic enclosures
Can mimic the look of granite, marble, travertine, or wood
What's more, many of the bathtub replacement projects Bath Depot Cleveland specializes in can be completed in as little as a single day, minimizing any disruption to your household's daily routines. And, we back all of our work with some of the best warranties in the industry, so you'll be able to enjoy your replacement bathtub knowing that your investment is well protected.
If the time has come for a bathtub replacement in your home, do what so many others in North Ridgeville, OH, have done and contact Bath Depot Cleveland to schedule a free, in-home design consultation. And be sure to ask about financing options available to those who qualify.