Update the Shower in Your Avon Lake, OH, Home with a Shower Replacement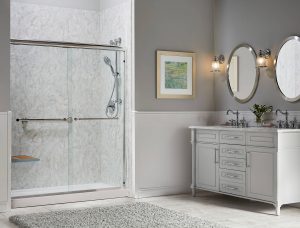 While taking a shower can be one of the most relaxing times of the day, if you have an outdated, stained, or grimy-looking shower, it can be anything but. Fortunately, if you live in Avon Lake, Ohio, or a surrounding area, you can turn to Bath Depot Cleveland to have a beautiful shower replacement installed in your home, including a walk-in shower that eliminates the need to step over a barrier in order to bathe. What's more, our shower replacements can be installed in just a day or two, so you won't have to deal with a long and frustrating remodeling project that will render your bathroom useless for weeks, or even months at a time.
Great Reasons to Work with Us
When you decide to partner with us to have a shower replacement installed in your Avon Lake, OH, area home, you can feel confident in your decision because of our:
Caring customer service – We truly care about giving our customers the best products for their needs. We will work collaboratively with you throughout the process and strive to ensure your complete satisfaction from start to finish.
Professional installations – We employ a team of factory-trained and -certified installers who will work tirelessly to ensure your shower is installed perfectly and operates flawlessly.
Fantastic reviews – We have earned great reviews from our past customers after completing work on their homes, so you can feel confident in your choice to partner with us.
Get Started Today!
If you're ready to have a shower replacement installed in your home in Avon Lake, OH, be it a new deep soaker, walk-in tub, or barrier-free shower, contact the bathroom remodel experts at Bath Depot Cleveland today.
Interested in seeing case studies, customer reviews and bathroom ideas? Be sure to Follow our Facebook page and see the difference Bath Depot Cleveland can make in your home!