Turn the outdated tub in your Westlake, OH, home into a beautiful shower…Bath Depot Cleveland is your answer for tub-to-shower conversion in Westlake! We can turn your existing bathtub into a much more functional and beautiful shower, often in as little as two days!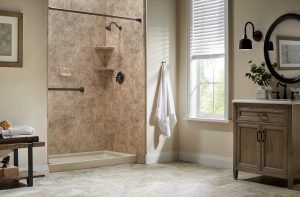 Whether the tub in your home is old and unappealing, has a tub wall that's too high to climb over, or you just don't like taking baths, a tub-to-shower conversion from Bath Depot Cleveland may be just what you need. We can remove your old bathtub and install a beautiful new shower in its place. What's more, we can complete this process in just a day or two, making it a much more convenient option when compared to a long and frustrating full bathroom remodel that can render your bathroom useless for weeks, if not months.
Just place a call to us to schedule a free, no-obligation consultation where we will go over our options with you, and help you design the perfect shower to meet all of your needs.
Customize Your Shower
When you decide to partner with us to have a tub-to-shower conversion performed in your home, you'll get to customize your shower to meet your aesthetic preferences and functional needs, including:
Wall surrounds – Our wall surrounds are available in your choice of solid colors, tile patterns, or simulated granite or marble.
Base color – Choose from a number of different base colors to get a shower that will blend in perfectly with the rest of your bathroom.
Accessories – Select from a variety of accessories including grab bars, shower caddies, soap dishes, seating options, shelving, and more, to make sure your new shower has everything you need.
Showers That are Built to Last
Another benefit of working with us for a tub-to-shower conversion is that our showers are built to last. They are made from a durable acrylic material that is resistant to chipping, denting, and staining and are also infused with an antimicrobial agent that prevents mold, mildew, and bacteria from growing, so you can get a shower that will look like new for years to come.
Request Your Westlake Tub-to-Shower Conversion Today!
For more information about the tub-to-shower conversion services that we have available to homeowners throughout the Westlake, OH, area, contact Bath Depot Cleveland today.
Interested in see case studies, getting ideas for your home, and more? Follow our Facebook page today!