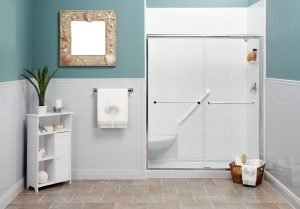 Chances are that one or more of your bathrooms in your Westlake, Ohio, area home could use an upgrade. However, the thought of dealing with the hassles and frustrations of a complete bathroom remodel likely have you putting off the project…and the idea of having a key room in your home torn apart for days or weeks. That's where Bath Depot Cleveland comes in….we are the answer to your search for shower replacement in Westlake, Ohio!
What type of shower are you looking for? Are you looking to replace an aging, difficult-to-clean shower? Do you want to turn your existing bathtub into a new shower? Do you want to make your shower easier and more accessible to use for someone in your home with limited mobility? The pros at Bath Depot Cleveland can do it all…let us know what you're looking for!
Beautiful Shower Replacement Options Available for Homeowners in Westlake
We offer shower replacement options that will give your bathroom a whole new look and feel, all without the time-consuming, and often pricey, full bathroom remodeling project that you've been dreading. In fact, we can typically complete a shower replacement in just a day or two, so the disruption to your home life will be minimal and you'll be able to start enjoying your new shower almost immediately.
Shower Replacements That Will Last for Years
Our shower replacements are constructed from a 100% acrylic material that is extremely durable. They will never fade, chip, crack, or peel and are designed to stand up against daily wear and tear. What's more, our showers are also infused with Silver Shield™, an antimicrobial technology that prevents the growth of mold and mildew, making it easy to keep them clean. Plus, our shower replacements, including our sleek and stylish walk-in showers are backed by a lifetime warranty, so you can rest easy knowing that your investment is protected.
Contact Us Today!
If you're ready to update the look of your Westlake, OH, bathroom, it's time to call the call the bathroom remodeling experts at Bath Depot Cleveland…let us be your choice for shower replacement in Westlake! We would be happy to set up a free, no-obligation consultation where we will listen to your goals and help you choose the perfect shower replacement that will meet them all.
Interested in seeing samples of our finished work and getting ideas for your bathroom remodeling project? Follow our Facebook page today!