Complete Your Bath Remodel with the Westlake, OH, Area's Premier Remodeling Contractors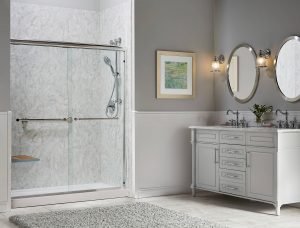 Are you considering investing in a bath remodel for your Westlake, Ohio, home? If so, you'll want to make sure you choose the right bathroom remodeling contractors—and Bath Depot Cleveland is the most qualified company for the job.
Bath Depot Cleveland offers high-quality bathroom solutions with a turnaround time of as little as one day. We believe in providing top-of-the-line bathroom products—such as showers and bathtubs—without the inconvenience of long installation times.
Our Bathroom Renovation Services
At Bath Depot Cleveland, we offer an array of products and services to homeowners looking to complete a bath remodel. We offer:
Jacuzzi® walk-in tub installations
Updated faucets and bathroom fixtures
All our showers and bathtubs come in a variety of colors, styles, and designs, and are made from high-end materials that will last you many years. Bath Depot Cleveland has an A+ rating from the Better Business Bureau, and it isn't without reason. When you partner with us for your bath remodel, we will make sure you receive the best possible products and services on the market.
No matter what your wants or needs are, the professionals at Bath Depot Cleveland can get your bath remodel done quickly and efficiently.
Getting Started with Your Bathroom Remodel
If you're prepared to take the next step in completing a bath remodel for your Westlake, OH, home, Bath Depot Cleveland is just one phone call away. We offer competitive pricing and free consultations. Contact us today to get started.