The Company Homeowners in Cleveland, OH, Can Rely on to Transform a Traditional Bathing Space Into an Accessible Shower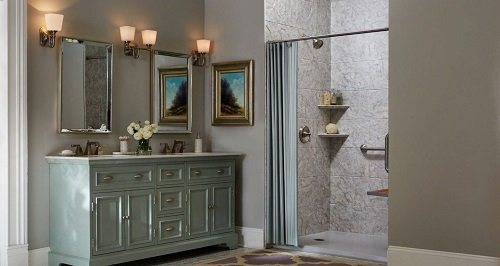 The difference between a hazard and a haven can sometimes be measured in inches—20 to be precise. That's the standard height of a typical tub. It may not sound like a lot, but if you have limited or declining mobility, it can mean the difference between bathing with confidence and risking a fall. At Bath Depot Cleveland, we understand how important bathroom safety is in determining whether homeowners can continue to live independently in the homes they love. We're proud to be able to offer solutions that truly enhance the quality of life for our customers in Cleveland, Ohio, and neighboring communities. In as little as one day, we can transform your old tub-and-shower combo into a barrier-free shower that will allow you to enter the enclosure without having to step over an obstacle.
Removing Obstacles, Boosting Confidence
Whether you opt for a low-threshold model with a two-inch lip or a no-threshold model that allows for roll-in entry, our accessible showers will transform your bathroom in all the best ways! As Cleveland's bath authority, we've done our research and aligned with BathWraps, one of the most respected manufacturers in the industry. BathWraps has helped revolutionize bathroom remodeling by crafting fully customizable bathing enclosures that are maintenance free, durable, and absolutely gorgeous. Low- or no-threshold pans are only the beginning of how you can tailor your accessible shower to perfectly suit your needs. Additional options include:
Wall surrounds, available in an array of colors, patterns, and textures
Shower rods, glass doors, and open enclosures
Luxury showerheads
Many different hardware styles and finishes
Safety and convenience accessories such as grab bars, bench seats, and built-in storage
What's more, every accessible shower we install features grout-free acrylic walls infused with Silver Shield™, a non-toxic additive that uses silver ions to permanently hinder the proliferation of germs. And thanks to the exceptional durability of acrylic, your new enclosure will never chip, peel, crack, or stain for as long as you own your home.
If you'd like to learn more about having an accessible, barrier-free shower installed at your home, we're ready to help! Contact Bath Depot Cleveland today and schedule a no-obligation consultation at your home. And be sure to ask about financing options available to qualified homeowners.