Walk-in Showers for Strongsville, OH, Homeowners That Are the Epitome of Modern Elegance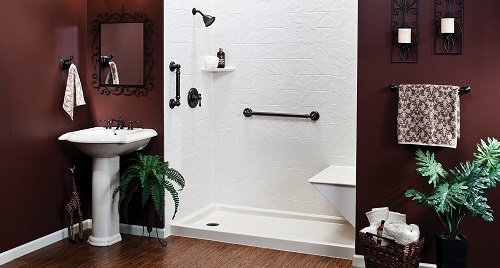 It wasn't all that long ago when walk-in showers were considered something only a school or gym locker room would have, a stark, no-frills stall with a showerhead, a pair of faucet handles, and little more. Having one in the home seemed as out of place as a drinking fountain in the kitchen. But, not anymore. Modern walk-in showers often feature the same luxurious touches that were once the exclusive domain of traditional tub/shower enclosures, including eye-catching surrounds, customizable accessories, and massaging water jets.
At Bath Depot Cleveland, we've been keeping abreast of all the latest trends and provide homeowners in Strongsville, Ohio, a wide selection of stunning walk-in showers that will not only beautify their bathrooms, but also create a bathing experience to rival anything a bathtub can offer.
The BathWraps Advantage
Bath Depot Cleveland is the exclusive BathWraps dealer in northeast Ohio. That means we're the only company Strongsville, OH, residents can turn to for these exceptional bathing enclosures. Why have BathWraps walk-in showers become such a massive hit with homeowners across the nation? A few of their many benefits include:
Incredible durability – Made from 100% non-porous acrylic, these showers will never stain, warp, chip, crack, or peel.
Safety features – Both our low-threshold and barrier-free bathroom showers allow for easy access, eliminating the hindrance of stepping over the lip of a tub to bathe.
Custom accessories – Whether it's grab bars, corner seats, or tower caddies, you'll be able to select the perfect combination of features to match your wants and needs.
BathWraps walk-in showers also come in numerous colors and patterns, so you'll always be able to find a style that perfectly complements your bathroom while expressing your tastes.
Walk-in showers have come a long way since the turn of the millennium. If you're ready for an exciting update to your bathroom's décor, contact Bath Depot Cleveland today and arrange a no-obligation design consultation. And with financing available to qualified Strongsville, OH, homeowners, transitioning your bathroom into the modern age couldn't be easier.