Shower Surrounds for Strongsville, Ohio, Homeowners That Are as Easy to Love as They Are to Clean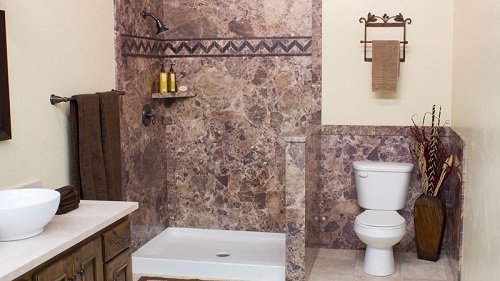 Wouldn't it be nice if bathing enclosures never lost their luster, if Strongsville, OH, homeowners never had to worry about scuffed surfaces, mildew-blackened grout, or stains that just won't go away no matter how hard you scrub? At Bath Depot Cleveland, our shower surrounds are designed to provide low-maintenance beauty that will last for years. Made by BathWraps®, one of the leading manufactures in the industry, our acrylic surrounds come in an array of styles and configurations, all of which can be installed quickly—often in as little as a day or two—thus minimizing any disruption to your household's daily routines.
The Perfect Mix of Beauty, Durability, and Maintainability
Not only is acrylic easy to clean, but it can also realistically mimic the look of more expensive, higher-maintenance materials such as:
Marble
Granite
Travertine
Slate
Onyx
Glass tiles
Subway tiles
Wood
And more
Moreover, BathWraps' shower surrounds are fabricated from large acrylic sheets that are custom made to perfectly fit into your existing bathing space, thereby eliminating the need for grout, the most common place for mold and mildew to grow.
If those benefits weren't enough, all of our shower surrounds are infused with Silver Shield™ antimicrobial protection, a state-of-the-art additive that uses silver ions to inhibit the proliferation of bacteria, thereby creating a more hygienic bathing environment. And, if you're planning to age in place in your home, Bath Depot Cleveland can also install a walk-in tub or convert a traditional tub/shower combination into a low- or no-threshold stall, both of which eliminate the need to step over a barrier to bathe.
If you would like to learn more about the many shower surrounds we offer, contact Bath Depot Cleveland today. We will be happy to schedule a no-obligation consultation with one of our bathroom designers so you can review all of your renovation options in the comfort of your Strongsville, OH, home. And be sure to ask about financing options for qualified homeowners.