Ready for a Shower Remodel at Your Home in Strongsville, OH? We're Here to Serve!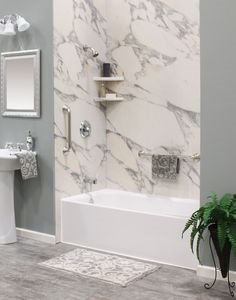 For a shower remodel that will add glamour and allure to your Strongsville, Ohio, home, trust the bathroom remodeling experts at Bath Depot Cleveland. Since our founding, we have been providing top-notch products, unparalleled customer care, and expert installation services to homeowners throughout the region, as evidenced by our stellar reputation and glowing reviews. We are just as invested in making your home improvement project a success as you are. That's why we offer shower remodel options from BathWraps™, one of the most respected manufacturers in the industry.
Designed for Beauty, Built to Last
These bathing enclosures are made from 100% virgin acrylic, a nonporous material that is:
Durable – Rugged and resilient, acrylic will never warp, rot, fade, peel, or blister for as long as you own your home.
Easy to clean – Since acrylic is nonporous, it doesn't provide an environment for mold and mildew to grow. And, because your shower will have grout-free wall surrounds, you'll never have to resort to laborious scrubbing to keep it looking great.
Hygienic – BathWraps bathroom showers are infused with Silver Shield™ antimicrobial protection, a state-of-the-art additive that uses silver ions to prevent the proliferation of germs.
Affordable – Acrylic can realistically replicate the look of more expensive and harder-to-maintain materials such as marble, granite, travertine, and wood for a fraction of the cost.
During your shower remodel, we can also install grab bars, bench seats, and built-in corner caddies in any of the enclosures we offer. We can even convert your old tub into a low- or no-threshold shower, eliminating the need to step over an obstacle to bathe.
If you're ready to move forward with your shower remodel, contact Bath Depot Cleveland today and schedule a no-obligation, in-home consultation with one of our design specialists. Our representative will inspect your bathroom, review all of the many shower options we offer, and provide information about financing available for our qualified, Strongsville, OH, customers.