Expert Bathtub Installation Services for Strongsville, OH, Homeowners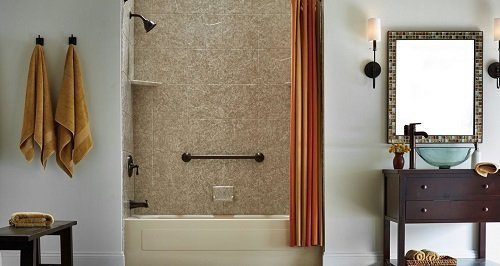 How important are bathtub installations when it comes to a remodel? Let's put it this way, tubs are the exclamation marks of bathrooms. No other feature has the potential to delight or disgust more than a bathing enclosure. As the room's natural centerpiece, bathtubs do more to establish style and ambiance than any other fixture. A sleek, immaculate tub can make a dramatic impact on your bathroom's décor. Graceful lines and tasteful backsplashes create a focal point that draws the eye again and again. Cracked, stained, and outdated tubs, on the other hand, can be eyesores that curdle a bathroom's appeal faster than lemon juice in milk.
Fortunately, when it comes to tubs, the transition from frightful to fabulous doesn't require a costly, invasive renovation. At Bath Depot Cleveland, our bathtub installation services are simply unrivaled. We offer premium products from BathWraps, an industry leader in tub and shower products, and as northeastern Ohio's exclusive BathWraps dealer, we are the only company Strongsville homeowners can turn to for these beautiful and durable tubs and wall surrounds. What's more, our bathtub installations provide customers with the convenience of a speedy, expert renovation coupled with the exceptional service that has earned us numerous accolades, including an A rating from the Better Business Bureau.
Premium Materials, Outstanding Beauty
When homeowners choose Bath Depot Cleveland for bathtub installation services, they'll reap the benefits of products that are:
100% acrylic, a durable, non-porous polymer guaranteed to never crack, stain, chip, or blister for as long as they own their home
Infused with Silver Shield™, an anti-microbial treatment that hinders the spread of bacteria and discourages the growth of mold and mildew
Customizable, with many available safety and convenience options such as grab bars, tower caddies, corner seats, and soap dishes
Don't let a dilapidated eyesore get you down any longer. After all, bathtubs should be places to wash stress away, not stew in it. If you're ready to update your Strongsville, OH, home with a tub installation, call Bath Depot Cleveland today to schedule a no-obligation consultation. And be sure to ask about financing options for qualified customers.