Bathtub Replacement Options That Will Delight Strongsville, OH, Homeowners Day After Day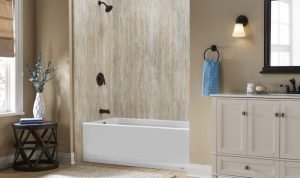 Bathtubs don't become eyesores overnight. They degrade slowly over time, gradually becoming more scuffed, stained, and dingy. Eventually, what were once pleasant places to relax as tired muscles unwound and the tensions of the day melted away, turn into spaces to avoid rather than enjoy. Wouldn't it be nice if bathtubs retained their like-new beauty and functionality year after year? At Bath Depot Cleveland, we offer a variety of bathtub replacement options for Strongsville, Ohio, homeowners that do just that. We're the exclusive, regional dealer of BathWraps® by Liners Direct. These exceptionally durable bathing enclosures are made from non-porous acrylic, a resilient synthetic polymer that resists mold and mildew growth and will never chip, crack, warp, or stain for as long as you own your home. What's more, all of the bathtub replacements we provide can be customized with accessories such as grab bars, built-in corner caddies, and foot pedestals to create a bathing space that offers safety and convenience in equal measure with beauty and performance.
Partner With the Professionals That Will Complete Your Bathroom Renovation to Perfection
When you turn to Bath Depot Cleveland for your home improvement needs, you'll be partnering with a locally owned company that:
Offers a free, no-obligation inspection and design consultation at the beginning of every project
Works with customers to tailor a remodeling plan that fulfills all their renovation goals while fitting within their budget
Employs only the most qualified, factory-trained technicians to quickly and competently install bathtubs
Provides numerous financing options for qualified customers
Backs its work with some of the best warranties in the industry, affording homeowners the peace of mind that comes with knowing their investment is well protected
So, why put up with a bathroom eyesore any longer? Contact Bath Depot Cleveland today to learn more about the top-of-the-line bathtub replacement options we offer Strongsville, OH, homeowners. Whether you're considering a luxurious walk-in tub, a traditional deep-soaker, a combined tub and shower, or a low-threshold shower stall, we can create a bathroom centerpiece that will delight you day after day.