The Bathroom Remodeling Contractor Homeowners in Strongsville, OH, Can Count on for Stress-Free Renovations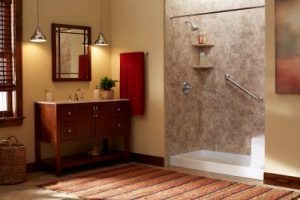 If you're like many homeowners in Strongsville, Ohio, you view bathroom renovations with a mixture of anticipation and dread. On the one hand, few remodeling projects have the potential to increase the value of your residence more than a gleaming new bathroom. On the other hand, dismantling and reconstructing your home's most utilitarian room is enough to give pause to even the most stouthearted. And if you only have one bathroom, the thought of losing it for a week or more is enough to send chills down your spine.
Bath Depot Cleveland is a bathroom remodeling contractor specializing in renovations that are as anxiety-free as possible, many of which can be completed in just one day! Every project starts with a complimentary consultation. This is strictly a preliminary chat. No high-pressure sales pitches. No bait-and-switch gimmicks. Our representative will take the time to discuss your budget and learn what features are most important to you in order to tailor a bathroom renovation that will perfectly meet your needs.
Routinely Exceeding Expectations
Bath Depot Cleveland is the only bathroom remodeling contractor in northeastern Ohio that offers and installs BathWraps' popular line of bathing enclosures. Renowned for their quality, durability, and variety, these products include:
No-maintenance acrylic tubs that will never stain, peel, crack, or blister for as long as you own your home
Low- and no-threshold showers that eliminate the need to step over an obstacle to bathe
Custom-manufactured wall surrounds that are mildew-resistant and infused with anti-microbial protection to make cleaning a breeze
What's more, all of these enclosures can be augmented with safety options such as corner seats, grab bars, and slip-resistant floors. They also come in a vast array of colors and styles, giving you the freedom to create a bathroom décor that's an elegant reflection of your aesthetics.
Finding a bathroom remodeling contractor you can count on doesn't have to be an ordeal. Reach out to Bath Depot Cleveland today to learn more about how we can bring your remodeling dreams to life. And be sure to ask about financing options available to qualified Strongsville, OH, homeowners.