With a Bathroom Makeover, We Can Update the Look of Your Strongsville, OH, Tub or Shower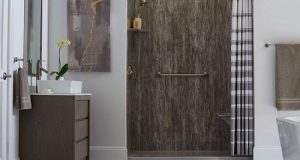 Have you had the same bathroom since you first moved into your Strongsville, Ohio, home? If you're tired of seeing the same old tub or shower, then it may be time for a bathroom makeover!
Bath Depot Cleveland is your neighborhood bath remodeler. We install showers and bathtubs manufactured by BathWraps, and our factory-trained and -certified technicians can complete your bathroom renovation in as little as one day. We'll also include a manufacturer-issued lifetime warranty, so you can be comforted knowing your investment is well protected.
What We Offer Your Bathroom Remodel
If you're looking for a long-lasting bathtub or shower to complete your bathroom makeover, then look no further. At Bath Depot Cleveland, we install high-quality bathtubs and showers that are made of nonporous acrylic and feature Silver Shield™ technology. These two things combined result in a bathing solution that is resistant to scratching, cracking, fading, molding, and mildewing. Our services include:
Jacuzzi® walk-in tub installations
Modern faucets and bathroom fixtures
Shower and tub accessory installation, such as caddies, soap holders, grab bars, seating, and more
Our bathing solutions are also completely customizable from style to color, so you can choose the perfect option for your Strongsville, OH, home.
Let's Get Started!
If you want to complete your bathroom makeover quickly and efficiently, then Bath Depot Cleveland should be your next call. Our friendly customer service team will be happy to walk you through our financing options as well! Contact us today.