Custom-Made Shower Enclosures for Homeowners in Cleveland, OH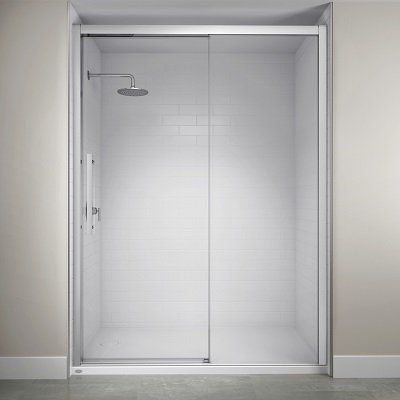 Are you fed up with your shower enclosure? Are you tired of blackened grout, cracked tiles, and stains you can never get rid of no matter how long and hard you scrub? You don't have to put up with a bathing space that leaves you wishing for something better. At Bath Depot Cleveland, we can transform your bathroom in just one day by installing a custom-made shower enclosure that will look great, improve safety, provide all the storage space you need, and be virtually maintenance free. We are the established authority for bath remodels in northeast Ohio and the region's exclusive BathWraps dealer. As a leader in the industry, BathWraps has become one of the most recognizable names among manufacturers of shower enclosures in the nation by providing a variety of remodeling solutions that can be installed with a minimal amount of disruption.
A Wealth of Options That Never Disappoint
Your bathroom remodel will begin with a complimentary in-home consultation. One of our representatives will inspect your bathing space, take measurements, and review all of the possibilities available for your new shower enclosure. Glass shower doors are one popular option. Sleek, elegant, and sophisticated, the glass doors we offer are available with options such as:
Framed or frameless panels
Beveled, frosted, or clear glass
Chrome, brushed nickel, or bronze finishes
You can also opt for low- or no-threshold shower stalls, accessories such as grab bars, bench seats, and built-in caddies, and a vast array of grout-free acrylic wall surrounds. Once you've made your selections, BathWraps will fabricate your shower enclosure to your exact specifications. On installation day, our skilled technicians will treat your home in the Cleveland area with the utmost respect by putting down tarps, wearing booties, and removing every scrap of debris when the project is complete. It's all part of what we call "The Red Carpet Treatment," and it's just another example of how we go above and beyond for our customers.
If you'd like to learn more about the BathWraps shower enclosures we offer, reach out to Bath Depot Cleveland today and schedule your initial consultation. We're ready to show you why we're Cleveland's bath authority.