Homeowners in Cleveland, OH, Can Transform Their Bathing Enclosures With BathWraps Acrylic Wall Systems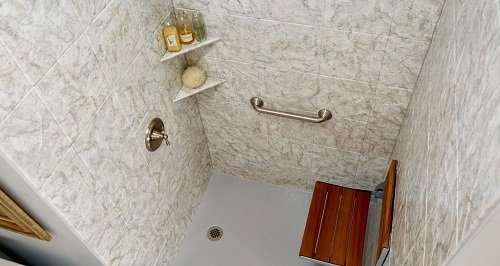 Your shower walls are regularly subjected to conditions that encourage deterioration. Daily soakings, high humidity, lime and calcium deposits, rust, mold and mildew—they all take their toll. It's no wonder that unappealing shower walls are one of the top complaints when it comes to old bathing enclosures, ranking right up there with leaky faucets and a lack of storage space. What if you could fix all of these pain points in one fell swoop? Now you can, and it doesn't require a major teardown and rebuild!
At Bath Depot Cleveland, we can install an acrylic wall system as part of a one-day bathroom remodel. We are the area's bath authority and the exclusive BathWraps dealer in northeastern Ohio, offering the manufacturer's entire line of innovative, custom-made bathing enclosures. Whether you want to replace your tub-and-shower combo, convert your tub to a low- or no-threshold shower, or swap out your standard tub with a luxurious walk-in model, our technicians can complete the job with a minimal amount of disruption to your home and routines.
The Benefits of Acrylic
Your new BathWraps' acrylic wall system will be fabricated to the exact dimensions of your bathing enclosure rather than pieced together from dozens of individual tiles. This innovative design eliminates the need for grout, so you'll never have to spend time cleaning it. And since each shower wall is one panel, you won't have to worry about tiles cracking or coming loose. But that's only the beginning of the benefits your shower surrounds will provide. They also:
Come in a vast array of colors and styles, including those that realistically mimic the look of marble, travertine, subway tiles, and many other more expensive materials
Are infused with Silver Shield™, a non-toxic additive that permanently hinders the growth of bacteria
Can be accessorized with safety and convenience options such as grab bars, bench seating, and built-in shelves
To learn more about why an acrylic wall system may be the perfect option for your bathroom, contact Bath Depot Cleveland and schedule a complimentary in-home consultation. And if you're looking for ways to make your home improvement more affordable, be sure to ask about the convenient financing options available to qualified Cleveland, OH, homeowners.