Is the Time Right for a Barrier-Free Shower in Your Rocky River, OH, Home?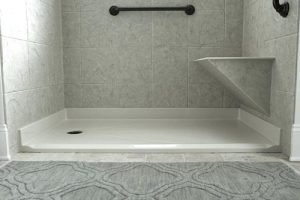 How often do you use your bathtub? If your preferred method of bathing is to shower, then your tub is little more than an obstacle you have to step over every time you enter and exit the enclosure. It also requires regular cleaning to remove stains and lime deposits and is a basin where pooled water can encourage the growth of mold, mildew, and bacteria. Why put up with a bathroom feature that serves no real purpose and creates extra work for you? At Bath Depot Cleveland, we are the company homeowners in Rocky River, Ohio, can turn to for expert bathroom renovation services, including the replacement of a tub/shower combo with a sleek, modern barrier-free shower. Imagine being able to transition from the bathroom to the stall as easily as you move from room to room. Not only will such a transformation eliminate a tripping hazard, but it also provides the opportunity to customize your bathing space to perfectly suit your needs.
Eliminating Obstacles Is Only the Beginning
When you reach out to Bath Depot Cleveland for a barrier-free shower, your project with begin with a no-obligation consultation. One of our representatives will drop by to inspect your bathroom, discuss your renovation goals, and review all of the options we offer. As the region's exclusive BathWraps dealer, we offer all of the manufacturer's popular bathing enclosures. The benefits of a barrier-free shower include:
Improved accessibility, not only for you, but for other members of your household that may have limited mobility and use a wheelchair
Reduced cleaning requirements, since BathWraps shower surrounds are grout free and made from acrylic, a durable material that never stains, scratches, chips, blisters, or peels
Optional safety and convenience features such as grab bars, no-slip floors, and plenty of built-in storage
If you're ready to update the bathroom of your home in Rocky River, OH, with a beautiful barrier-free shower, contact Bath Depot Cleveland today. Most renovations can be completed in just one day! And if you're interested in financing, we have options for those who qualify.