The Premier Bathroom Remodeling Contractor Serving Homeowners in Rocky River, Ohio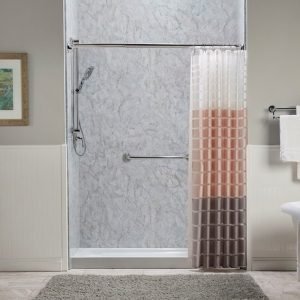 Your bathroom should be a place you can feel comfortable in. That means more than just having nice towels and plenty of toilet paper. It requires all the pieces to be in place—a beautiful bathing enclosure, plenty of storage, safety accouterments, and thoughtful finishing touches. If the bathroom of your Rocky River, Ohio, home is missing one or more of these, chances are the time you spend there is purely out of necessity; it equates to minutes endured rather than enjoyed. At Bath Depot Cleveland, we think that's a shame, and we're ready to help you do something about it. As a BathWraps™ dealer, we offer a wide variety of options that can transform your bathing space in just one day. And since we're the only local bathroom remodeling contractor that offers and installs these products, we're the go-to company for renovations that will have you savoring the time you spend in your new bathroom sooner rather than later.
A Stress-Free Renovation Experience
When you choose Bath Depot Cleveland as your bathroom remodeling contractor, you'll get the "Red Carpet Treatment." We go out of our way to make your experience with us as pleasant and productive as possible. From the complimentary initial consultation to the final inspection, we'll treat you and your home with the utmost respect. You can expect:
A renovation tailored to your specific needs, whether you want to convert your tub into a walk-in shower, upgrade it to a walk-in tub, or entirely replace your tub/shower combo
Expert installation from our in-house team of technicians
A clean and tidy work zone throughout the project
Lifetime warranties on all BathWraps products
All of the acrylic bathing enclosures we install are precision made to exact specifications, so you can rest assured they'll fit your bathroom seamlessly. What's more, they're also infused with SilverShield® antimicrobial protection, which permanently hinders the growth of bacteria.
There's no shortage of bathroom remodeling contractors serving homeowners in Rocky River, OH. But when it comes to premium products, expert installation, and outstanding customer service, Bath Depot Cleveland is in a league of its own. Reach out to us today to schedule your no-obligation consultation.