Premium Walk-in Showers Have Much to Offer Parma, OH, Homeowners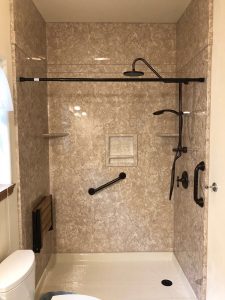 Walk-in showers may not conjure up the same romantic notions of relaxation and luxury that bathtubs do, but Parma, Ohio, homeowners who are planning a bathroom renovation would do well to consider the advantages these enclosures have over tubs. Low- and no-threshold walk-in showers have become increasingly popular alternatives to traditional tub/shower enclosures. That's because these spaces eliminate the need to step over an obstacle to bathe. Shower stalls can also be outfitted with accessories such as bench seats, grab bars, and corner caddies that further enhance both safety and convenience.
Easy to Access, Easy to Maintain, Easy to Love
At Bath Depot Cleveland, we are the bathroom renovation experts that are transforming bland and battered bathing enclosures into breathtaking centerpieces. As the exclusive dealer for BathWraps® in the region, we are the only company homeowners can turn to for these top-of-the-line products. BathWraps' walk-in showers are custom made to perfectly fit your existing bathing space. Constructed from durable, non-porous acrylic, these enclosures:
Resist the growth of mold and mildew and wipe clean easily, so you'll never need to resort to laborious scrubbing with harsh cleansers to keep them looking like new
Can mimic the look of more expensive and harder-to-maintain materials such as marble, travertine, onyx, and even wood
Are infused with Silver Shield™ anti-microbial protection, a state-of-the-art additive that uses silver ions to hinder the proliferation of bacteria
Furthermore, your new enclosure will be installed quickly and flawlessly – often in as little as a single day – by experienced, factory-trained technicians, thereby minimizing any disruption to your household's daily routines.
To learn more about any of the premium shower stalls we offer, contact Bath Depot Cleveland today. We'll be happy to schedule a no-obligation consultation with one of our representatives to review all the options that are available for your project. And during your meeting, be sure to ask about the financing options available to qualified Parma, OH, customers.