Minimally Invasive Shower Remodel Services for Parma, Ohio, Homeowners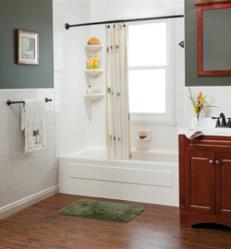 A bathroom renovation for your home in Parma, OH, doesn't have to be a long, drawn-out project requiring the demolition of walls, the rerouting of plumbing, or the reconfiguration of fixtures. In fact, in many cases a bathroom can be dramatically transformed by simply updating the bathing enclosure. At Bath Depot Cleveland, we specialize in shower remodels that can be completed in as little as a single day, thus minimizing any disruption to your household's daily routines. Whether you're looking to replace a scratched and stained tub, convert a traditional tub and shower combo into a sleek no- or low-threshold shower stall, or have a walk-in tub installed, we can provide the products and services needed to make your shower remodel a stunning success.
Beautiful, Durable & Easy to Clean
When you partner with Bath Depot Cleveland to remodel a shower, your home improvement project will begin with a no-obligation consultation. One of our experienced design specialists will visit your home to inspect your bathroom, take detailed measurements, learn what your remodeling priorities are, and review all of the many options that are available to achieve your goals. We are a proud BathWraps™ dealer and offer the manufacturer's entire line of tub, shower, and wall surround products. We'll work with you to create a plan that perfectly expresses your tastes and fits your budget.
Once our installation team has completed your shower remodel, you'll be able to enjoy a pristine new bathing enclosure that has been customized to meet your needs. All BathWraps surfaces are made from 100% virgin acrylic, a durable, non-porous material that:
Cleans up easily, without the need for laborious scrubbing or harsh chemicals
Resists the growth of mold and mildew and hinders the spread of bacteria
Will never chip, peel, or blister for as long as you own you home
Can mimic the appearance of more expensive materials such as marble, granite, and travertine
If you're ready to breathe new life into a tired and outdated bathroom with a shower remodel, we're ready to help. Contact the renovation experts at Bath Depot Cleveland today to learn more about our renovation services. And be sure to inquire about the many financing options available to qualified Parma, OH, homeowners.