Fast and Fabulous Shower Replacement Services for Parma, OH,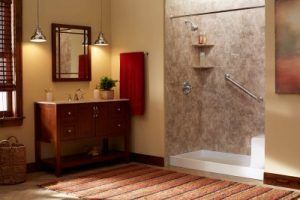 When you think of bathroom showers, what comes to mind? Is it gleaming modern showerheads raining cascades of warm water inside pristine enclosures of glass and tile? Or is it scummy fixtures, chipped basins, and torn shower curtains? If you're a Parma, Ohio, homeowner and your bathroom shower is more like the second example, turn to Bath Depot Cleveland to transform your eyesore into an eye-catcher. Our shower replacement services include quick installations, which will allow you to enjoy a luxurious new bathing enclosure in as little as one or two days, with minimal disruption to your home and daily routines.
Options, Options, and More Options
As the area's exclusive dealer of BathWraps™ products, we proudly offer several options for your shower replacement that are sure to wow. When you reach out to us, one of our designers will visit your home to inspect your bathroom and discuss what you are hoping to accomplish with your remodel. Our representative will then review all of the possibilities available for your project, including:
Replacing your old tub-and-shower combo with a new one, thus maintaining your bathroom's current layout and functionality
Installing new shower surrounds to create a customizable enclosure with optional features such as sliding glass doors, safety grab bars, and walls that can mimic the look of stone, tile, granite, or marble
Converting your tub-and-shower enclosure into a walk-in shower, which eliminates the need to step over a threshold to bathe
Trading your shower in for a luxurious walk-in tub that not only improves safety but also provides a spa-like environment to soak away the cares of the day
All of BathWraps' premium bathroom products are guaranteed to never crack, chip, peel, or fade for as long as you own your home, which means they'll retain their vibrancy and luster year after year. They're also infused with SilverShield™ anti-microbial protection and will clean up easily, without the need for harsh chemicals or laborious scrubbing.
If you're ready to move forward on your shower replacement project, contact Bath Depot Cleveland today to schedule your complimentary initial consultation. And if you're interested in financing your remodel, be sure to ask about options available to qualified Parma, OH, homeowners.