One-Day, No-Hassle Bathroom Remodels for Cleveland, OH, Homeowners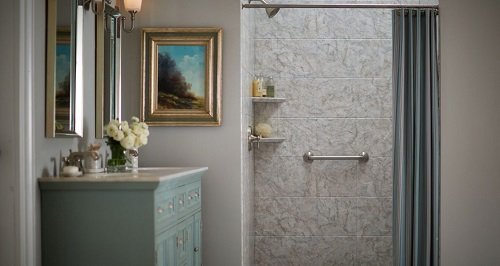 Is a bathroom remodel for your home in the Cleveland, Ohio, area looming in your future? If so, are you facing it with dread or delight? The thought of losing the use of your bathroom for a week or more while plumbing is rerouted and features rearranged can be a little disconcerting (especially if your house only has a single full bath). But it doesn't have to be that way. At Bath Depot Cleveland, we offer one-day bathroom remodel options that can dramatically transform your old bathing space in just a matter of hours, without the need for major restructuring.
When you turn to Bath Depot Cleveland, you'll be partnering with the bath authority that makes renovations a snap. As northeast Ohio's exclusive BathWraps dealer, we are the only company homeowners can turn to for this manufacturer's collection of gorgeous, maintenance-free bathing enclosures. We approach every one-day bathroom remodel as if we were working in our own homes. No corners are cut, no shortcuts taken. It's all part of what we call "The Red Carpet Treatment."
All in Good Time
The one-day bathroom remodels we offer are designed to improve your entire bathing experience, from safety and storage to aesthetic enhancement and convenience. Options include:
Removing an old tub and replacing it with a new basin and stunning wall surrounds
Installing a luxurious walk-in tub that eliminates the need to step over an obstruction to bathe
Converting an old tub into a low- or no-threshold shower to improve accessibility and give your bathroom an elegant, modern ambiance
What's more, BathWraps enclosures are made from acrylic, a durable, non-porous material that will never chip, crack, stain, or peel for as long as you own your home. These enclosures will also resist mold and mildew and clean up easily, without the need for laborious scrubbing or harsh cleansers.
Don't let concerns about the muss and fuss of a major renovation project keep you from the bathroom of your dreams. Contact Bath Depot Cleveland today, the bath authority more and more homeowners are turning to for one-day bathroom remodels that prove good things can come to those who don't want to wait.