The Company to Turn to in North Royalton, OH, for BathWraps Walk-in Showers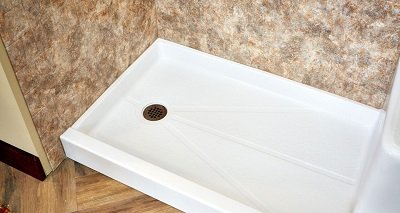 Replacing a tub/shower combo with a walk-in shower is one of the most popular bathroom renovations for homeowners in North Royalton, Ohio, and indeed, across the nation. It's not hard to figure out why. These enclosures are sleek, elegant, thoroughly modern, and eliminate the need to step over a barrier to bathe. At Bath Depot Cleveland, we recognized this trend toward convenience and practicality when it comes to bathing enclosures and tailored our services to meet this demand. We proudly offer and install BathWrap walk-in showers that are as beautiful as they are durable and easy to care for. Every enclosure is fabricated to the exact dimensions of our customers' homes to ensure a perfect fit. They are also fully customizable, so you'll be able to choose everything from the color and texture of the wall surrounds to accessories such as grab bars, built-in seating, luxury showerheads, and added storage space. And since the wall surrounds are grout free, you'll never have to worry about scrubbing away at those ugly black lines between titles. A quick wipe with a damp cloth and mild soap is all the maintenance required to keep everything looking great.
What to Expect When We Install Your Barrier-Free Shower
The first step in having a new walk-in shower installed is to contact Bath Depot Cleveland and request a no-obligation consultation. During this initial meeting, you'll be able to discuss your renovation goals, your budget, and your priorities with our representative. Once you've finalized your choices, we'll schedule your remodel for a time that works for you. And you can rest easy knowing your remodel will be a smooth, stress-free process thanks to our highly skilled technicians who will:
Wear booties to protect your carpets
Keep the worksite tidy and free of debris
Provide regular updates about how things are progressing
Exercise the utmost care during demolition and install everything with precision
Complete the job quickly and to your complete satisfaction, usually in just one day
Furthermore, all BathWraps products are backed by lifetime warranties, so you can rest easy knowing your investment is secure.
So, what are you waiting for? Contact Bath Depot Cleveland today to get the ball rolling on your walk-in shower. We're the premier bathroom contractor serving North Royalton, OH, homeowners.