Adding a Touch of Luxury in a Shower Replacement Project Needn't Break the Bank for Homeowners in North Royalton, OH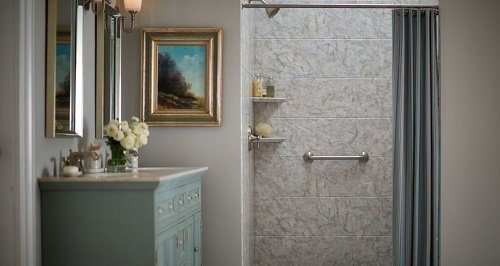 When updating a shower, the replacement possibilities are nearly endless for North Royalton, Ohio, residents—if they're willing to spend the money. Italian marble, wall-mounted media centers, recessed LED mood lighting? There's almost nothing that can't be incorporated into today's shower enclosures. Most homeowners, of course, have to work within a budget when it comes to their shower replacement project. But that doesn't mean they have to settle for a bland and basic shower stall. At Bath Depot Cleveland, we offer many shower remodeling options that can add a touch of elegance and luxury to your bathing space without breaking your budget.
Take Your Bathing Enclosure to the Next Level
As the exclusive BathWraps dealer in northeast Ohio, Bath Depot Cleveland is the only company area homeowners can turn to for these popular bathroom renovation products. The list of affordable and stylish options you'll be able to choose from for your shower replacement is extensive. We can, for instance:
Provide acrylic wall surrounds as part of your shower replacement – These durable additions clean easily, resist mold and mildew, and can mimic the look of more expensive and higher-maintenance materials such as granite, slate, marble, and even wood.
Incorporate a bench or prairie seat into the wall – Imagine standing under a warm cascade of water as you wash away the stress of the day. Now imagine the same thing sitting down. Talk about a spa-like experience!
Install luxury showerheads or handheld shower wands – Whether you want a gentle rain or an invigorating jet, you'll be able to select the perfect hardware to provide all the hydrotherapeutic benefits you desire.
We can also replace your tub/shower combo with a low- or no-threshold walk-in shower that eliminates the need to step over a barrier to bathe. What's more, many of the shower replacement services Bath Depot Cleveland offers to customers in North Royalton, OH, can be completed quickly, often in as little as a day or two, so you'll be able to enjoy your new bathing enclosure sooner rather than later.
Bathroom ideas come in all shapes and sizes. If you'd like a few more suggestions for the replacement of a shower in your home, contact Bath Depot Cleveland today. We'll be happy to schedule a no-obligation, in-home consultation with one of our design specialists.