Professional Walk-In Shower Installations for Homes in North Ridgeville, OH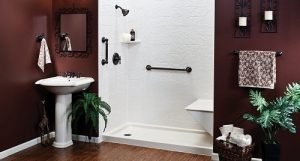 Do you find yourself nearly slipping and falling when stepping in and out of your high-threshold bathtub or shower? This can be very dangerous, especially for children and the elderly. In fact, slip-and-fall accidents are the No. 1 cause of bathroom-related injuries. To avoid becoming part of that statistic, you should consider hiring Bath Depot Cleveland to install a walk-in shower in the bathroom of your North Ridgeville, Ohio, home.
At Bath Depot Cleveland, we offer one-day shower replacements, which means you can have a new and improved bathing solution quickly and efficiently. We have an A+ rating from the Better Business Bureau, so you can rest assured you will receive high-quality products from a well-rated bathroom remodeler.
A Safer Bathing Solution
When you partner with Bath Depot Cleveland for a walk-in shower installation, you will receive a beautiful and durable bathing solution for your bathroom. Additionally, our walk-in showers have minimal thresholds—so you no longer have to worry about tripping over your high-threshold bathtub or shower. They are an excellent choice for homeowners who want to create a safer bathroom environment in their home.
Our showers are also:
Made from a durable acrylic material that will not dent, stain, warp, chip, or fade
Fully customizable, so you can choose the perfect color and pattern for your bathroom
We can also include shower accessories such as shelves, caddies, built-in seats, and grab bars with your walk-in shower installation.
Let's Get Started
Are you ready to install a walk-in shower in your North Ridgeville, OH, home? If so, contact Bath Depot Cleveland today. We look forward to hearing from you!