Bathroom Renovations for North Ridgeville, OH, Homeowners That Are the Solution to Their Remodeling Puzzle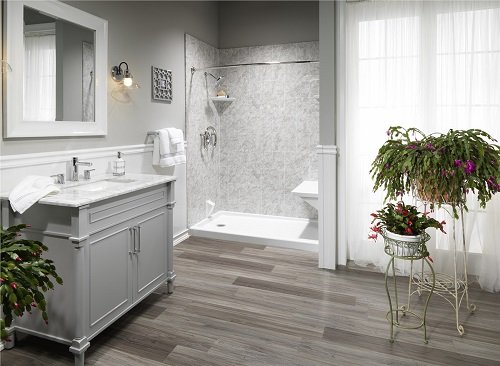 Let's be realistic; we can't promise bathroom renovations will brighten your smile, improve your golf game, or expand your vocabulary. Then again, if you're a homeowner in North Ridgeville, Ohio, who wants to transform a dingy, outdated bathroom into an oasis of elegance and relaxation, bathroom renovations by Bath Depot Cleveland could create an appealing space to linger as you brush your teeth for a few extra seconds. They could provide a customized low-threshold shower where massaging body jets of warm water reinvigorate tired muscles, making the back nine a little less intimidating. They could offer a comfortable place to sit and work out a crossword puzzle as you soak in your luxurious walk-in tub: seven across – an 18-letter, three-word phrase for "smart choice". Humm. So maybe bathroom renovations could do all those things after all!
Speedy Renovations, Lasting Benefits
Bath Depot Cleveland is the company homeowners throughout northeast Ohio trust for bathroom renovations done right. When you partner with us, your home improvement project will start with a no-obligation consultation. One of our representatives will inspect your bathroom, review your renovation objectives, and tailor a plan that fits your budget while achieving all of your goals.
Many of the bathroom renovations we specialize in can be completed in as little as a single day, keeping disruptions to your daily routines to a minimum. These include:
A tub-to-shower conversion – If you're looking for ways to improve safety and convenience, a low-threshold shower is one popular option. These beautiful enclosures are as easy to clean as they are to enter and exit.
The installation of a walk-in tub – Don't give up your nightly baths because of mobility concerns. These innovative enclosures have watertight doors that allow for barrier-free bathing.
Replacing an old bathtub with a new tub and wall surrounds – We'll remove your old bathtub and install a new one before adding gorgeous acrylic surrounds to create an exciting bathroom centerpiece.
If you're ready to begin bathroom renovations at your home in North Ridgeville, OH, contact us today to learn more about any of our bath remodeling services.
So, what's an 18-letter, three-word phrase for "smart choice"? Bath Depot Cleveland, of course!