Luxurious Walk-in Showers For Your Home in North Olmsted, OH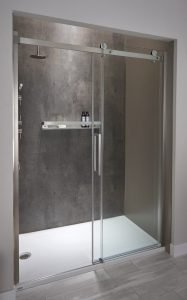 Your bathroom should be the room in your home you go to so you can relax and do self-care activities. But when you see your current bathtub or shower, do you see a clean, beautiful bathing solution or one covered in cracks and stains? If it's the latter, turn to the experts at Bath Depot Cleveland. We offer various bathing solutions for homeowners throughout North Olmsted, Ohio, including spacious walk-in showers.
What Can a Walk-in Shower Offer You?
Walk-in showers are an extremely popular choice amongst homeowners due to their sleek, modern appearance. But they have more to offer than just beauty. Our showers:
1. Can Make Your Bathroom Appear Larger
Do you feel like your bathroom appears cramped? A walk-in shower can help with that! Tubs and bathtub and shower combinations take up a lot of floor space, which can result in a tighter bathroom. But a walk-in shower takes up more vertical space than horizontal space, making your bathroom appear open and airy.
2. Are More Accessible and Safer Than Other Bathing Solutions
Bathtubs and traditional showers have high thresholds that are easy to trip over and bang into—especially in a wet environment. Plus, it can be difficult and tedious for those with limited mobility to get in and out of a tub or shower. With a walk-in shower from Bath Depot Cleveland, you will no longer have to worry about these possibilities.
3. Are Simple to Clean
Walk-in showers are designed to have minimal nooks and crannies for mildew and mold to grow, which comes in handy when cleaning day rolls around. You will no longer have to spend hours scrubbing your bathing solution from top to bottom for it to appear clean.
Learn Why Bath Depot Cleveland is Trusted by North Olmsted, OH, Homeowners
Are you ready to get started with your shower renovation? So are we. Contact Bath Depot Cleveland today to learn more about the walk-in showers we install in homes across North Olmsted, OH.