Homeowners in North Olmsted Can Ditch Their Old Tubs for New Showers Via a Tub-to-Shower Conversion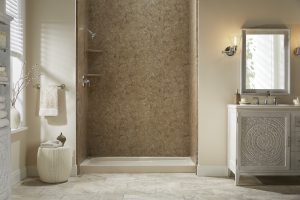 For some people, taking a nice long bath at the end of the day can be an enjoyable experience. However, let's face it, most people don't have time for this luxury and are more interested in taking a quick shower so that they can get back to their busy lives. If the tub in your North Olmsted, Ohio, home isn't being used, you can turn to Bath Depot Cleveland to have a tub-to-shower conversion performed so your bathroom will better suit your needs.
Custom Showers That Are Built to Last
We offer top-of-the-line replacement shower options that can be customized in a variety of style and color options, so you can create a shower that will meet both your functional and aesthetic needs. Plus, our showers won't ever crack, dent, chip, or fade, because they are built from durable acrylic. And, cleaning your new shower will be a breeze because our replacement showers are infused with an antimicrobial agent that prevents mold, mildew, and bacteria from growing. So, all you'll have to do to keep it looking like new is wipe it down on occasion with a cloth and household cleaner.
Complimentary Consultations
If you're considering having a tub-to-shower conversion performed in your home, just give us a call. We'll come out to your home for a complimentary consultation where we will:
Learn about the problems you're facing and listen to your goals
Explain about our shower options in detail
Answer any questions that you have
Help you choose an option that will meet all of your needs
And, once you decide what shower you want, you can count on your new shower being installed perfectly. Our highly trained and experienced technicians will work tirelessly to ensure that your new shower is installed correctly so that it looks great and functions perfectly.
To learn more about the tub-to-shower conversion services we have available to homeowners throughout the North Olmsted, OH, area, contact the experts at Bath Depot Cleveland today.