A Variety of Shower Replacement Options Available to Homeowners in North Olmsted, OH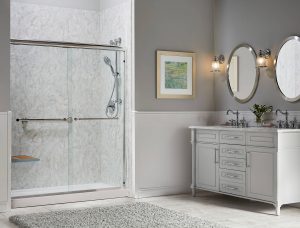 While bathing can be one of the more enjoyable parts of the day for some, others dread the experience because of their dingy, outdated showers. If you fall into the latter category, it's time to invest in a shower replacement from Bath Depot Cleveland. We offer a number of convenient shower replacement options to homeowners in North Olmsted, Ohio, and surrounding areas. Just give us a call and we'll be happy to schedule a complimentary in-home consultation so we can listen to your concerns, explain our different shower remodel options, and help you choose a new tub or shower that you'll love to use.
Great Reasons to Get a Replacement Shower From Us
When you decide to partner with us to have a shower replacement performed in your home, you can feel confident that you're making a wise decision because all of the products we offer are:
Constructed from durable acrylic that won't dent, crack, fade, or chip, so your new tub or shower will stay in great condition for the foreseeable future
Infused with SilverShield™, an antimicrobial agent that prohibits the growth of mold, mildew, and bacteria, making it easier than ever to keep your bathing area nice and clean
Completely customizable, so you can choose from a variety of colors, patterns, accessory options, and more to get a shower that's built just for you
What's more, all of our replacement showers can be installed in just a day or two, minimizing the inconvenience that comes with having your bathroom under construction and allowing you to enjoy your new bathing area as soon as possible.
Want to Learn More?
For more information about the shower replacement options we have available to homeowners throughout the North Olmsted, OH, area, contact Bath Depot Cleveland today.