A Shower Remodel Needn't Be a Major Hassle for Homeowners in North Olmsted, OH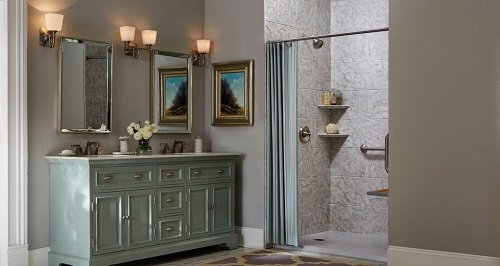 Is your shower in need of a remodel? If you've landed on this page, chances are you're at least thinking about it. Maybe you're at the very beginning of the process, trying to get a feel for what's involved in this type of renovation, how much it costs, how long it takes. Or maybe you've already been to a dozen or more sites and everything is starting to blur together. Here are a few tidbits that might make this page stand out from the rest. First, a shower remodel doesn't have to be a major ordeal. In fact, if you choose the right company to do the work, the project can be completed in as little as one day. Second, a shower remodel can improve not only your bathroom's aesthetics, but also its safety and accessibility. At Bath Depot Cleveland, we are the bath authority homeowners in North Olmsted, Ohio, can turn to for stress-free shower remodels that provide major benefits with minimal disruptions.
The Many Advantages Our Bath Renovations Provide
When you reach out to Bath Depot Cleveland for a shower remodel, we'll ease you through the process. No hard sales pitches; no "act now" gimmicks. One of our representatives will visit your home to chat about the options we offer and answer all your questions. Our most popular bathroom renovations fall into three basic categories:
Upgrades – We can replace your old, scuffed tub with a new model; install gorgeous, grout-free wall surrounds; and finish it with stylish hardware to create a stunning new bathing space.
Conversions – If you want to mix things up, we can replace your tub with either a low- or no-threshold stall or a luxurious walk-in tub. Either option eliminates the need to step over the rim of a tub to bathe.
Enhancements – Homeowners often opt for additional safety and convenience features such as grab bars, built-in storage, and comfort-height seating to take their bathing enclosure to the next level.
To learn more about how we can remodel a shower in your North Olmsted, home, reach out to Bath Depot Cleveland today. We're proud to be the exclusive BathWraps dealer serving customers in northeastern Ohio.