A Bathroom Remodeling Contractor That Brings Dreams to Life for Homeowners in North Olmsted, OH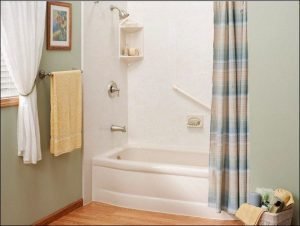 Where do bathroom renovations begin? You may be tempted to say the tub, the tiles, or perhaps the floor, but the real answer is: your imagination. If you've found this page, it means you're already thinking about a remodel. Maybe you're longing for a walk-in shower to replace your battered old tub. Or perhaps it's a new jetted deep soaker where the tensions of the day dissolve in an effervescent bath of churning bubbles. If this is the case, your renovations are already well underway. Now it's just a matter of finding the right bathroom remodeling contractor to turn your vision into reality. And at Bath Depot Cleveland, we can do just that for homeowners in North Olmsted, Ohio.
Your Vision Is Our Inspiration
When you partner with us to remodel your bathroom, one of our designers will meet with you to discuss your renovation goals. Unlike some other bathroom remodeling contractors, we never use high-pressure sales tactics or bait-and-switch gimmicks. Instead, we'll work with you to tailor a renovation that perfectly fits both your home and your budget. Some of the projects we specialize in are:
Tub replacements – Our models come in a variety of depths, styles, and sizes and can be customized with features such as built-in armrests and foot pedestals.
Tub-to-shower conversions – Replacing a tub with a no-threshold shower can eliminate mobility challenges and increase safety, especially when enhanced with grab bars and bench seats.
Walk-in tub installation – These watertight enclosures provide a spa-like bathing experience without the need to climb over an obstacle.
Shower and tub surrounds – Custom made to perfectly fit your existing bathing enclosure, these grout-free walls can be installed in as little as a single afternoon.
What's more, all of the tub and shower products we offer are made from acrylic, a non-porous material that will never crack, chip, or stain for as long as you own your home.
If you're ready to bring your bathroom vision to life, reach out to the premier bathroom remodeling contractor serving homeowners in North Olmsted, OH—Bath Depot Cleveland. And be sure to request information about the financing options we have available to qualified homeowners.