Stunning Bathroom Makeovers for Homeowners Across North Olmsted, OH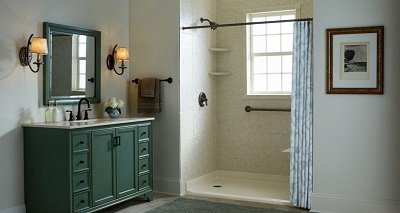 Look around the bathroom in your North Olmsted, Ohio, home. Do you love the bathtub or shower staring back at you, or are you tired of seeing its stained and cracked appearance? If it's the latter, then Bath Depot Cleveland is here to help. We perform bathroom makeovers for homeowners in the area, and we'll be more than happy to upgrade yours next.
Bath Depot Cleveland offers wet-area bathroom renovations that can often be completed in as little as one or two days. Our high-quality bathing solutions are sure to last you many years and will remain looking beautiful for the same length of time.
Our Bathroom Remodel Services
Whether you're looking for a bathtub or a shower, we've got you covered. We offer a list of services, including:
Shower replacements
Bathtub replacements
Jacuzzi® walk-in tub installations
During your bathroom makeover, we will discuss exactly what you're looking for in your new bathing solution. Then, we'll get to work customizing the perfect bathtub or shower for your bathroom. We have a wide selection of color and pattern options for you to choose from, as well as bathroom safety products and accessories, such as grab bars, in-shower seating, shelving, and more.
What's more, all our products are made of durable, beautiful acrylic that is resistant to cracking, chipping, fading, and warping, so you never have to worry about those issues occurring.
Bathroom Makeover Experts Serving North Olmsted, OH
At Bath Depot Cleveland, our technicians are highly trained and ready to help you with your bathroom makeover. To get started, call us today.