Beautiful Walk-In Showers Installed in Middleburg Heights, OH, Homes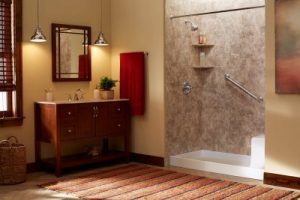 If you're planning a full bathroom remodel, you may be wondering whether you should install a bathtub or a shower. While tubs are a great option for those who like to take long soaks, they aren't the most practical choice for many homeowners. For instance, when was the last time you filled your bathtub to take a bubble bath? If you can't remember, you may want to call Bath Depot Cleveland for a walk-in shower installation.
At Bath Depot Cleveland, our walk-in showers are streamlined with low thresholds, so you don't have to worry about tripping when going to take a shower in your Middleburg, Ohio, home. They are also made from a durable acrylic material that is resistant to staining, chipping, and cracking. And the best part? We'll perform your shower replacement in as little as one day.
Low-Threshold Showers for Your Home
When you choose to partner with Bath Depot Cleveland, you will receive top-notch bathing solutions from industry-leading manufacturer BathWraps. Our walk-in showers are great for those who have limited mobility, plan on aging in place, or simply want a more spacious bathing experience. Our showers are:
Roomy – A large advantage of our walk-in showers is their ability to make your bathroom appear open and airy.
Customizable – No matter what color, design, or style you want for your shower, we provide a host of different options.
Easy to clean – Thanks to their low thresholds and lack of bathtub walls, our walk-in showers are much easier to clean than tubs.
To put the cherry on top, we can include accessories such as caddies, shelves, and in-shower seating with your shower installation.
We're Ready to Help
Are you ready to install a walk-in shower in your Middleburg Heights, OH, home? The team at Bath Depot Cleveland is prepared to make sure you have a gorgeous, new walk-in shower in no time. Contact us today for more information.