For Tub-to-Shower Conversions, Homeowners in Middleburg Heights, OH, Can Rely on the Bathroom Renovation Experts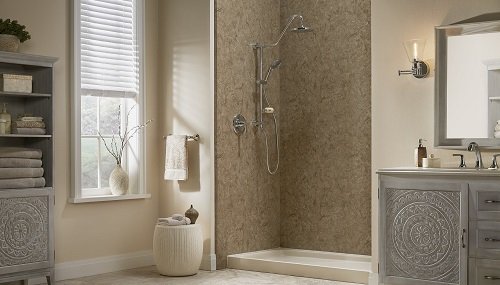 When it comes to remodeling a shower, homeowners can consider many different approaches, but the most important one may be the approach they take every time they enter the enclosure. Many bathing spaces are shower/tub combinations. While this configuration is certainly the most efficient in terms of saving square footage, it makes it necessary to step over the rim of the tub to bathe. If overcoming this obstacle has become a challenge, a tub-to-shower conversion may be the right approach for your bathroom renovation.
Shower Enclosures Customized Just for You
At Bath Depot Cleveland, we are the tub and shower remodeling experts serving homeowners in Middleburg Heights, OH. Never satisfied with anything less than a flawless bathroom renovation, our installation team will take the utmost care to ensure your new bathing space exceeds all of your expectations. Our reputation for providing The Red Carpet Experience is based on our unflagging commitment to excellence. That's why, when you partner with us for a tub-to-shower conversion, you can expect:
Top-of-the-line products made from 100% virgin acrylic, a non-porous material that resists mold and mildew growth and will never chip, crack, peel, or blister for as long as you own your home
Unparalleled customer service that includes a no-obligation design consultation to discuss your bathroom ideas, review options, and provide accurate pricing that will never change halfway through your remodel
A speedy completion to your project, often in as little as one day, so disruptions to your home and daily routines will be kept to an absolute minimum
Whether you're considering a tub-to-shower conversion or a new shower/tub combination, the company to turn to for unsurpassed shower remodeling services is Bath Depot Cleveland. Contact us today to schedule a no-obligation consultation at your Middleburg Heights, OH, home with one of our design specialists. No matter what approach you decide to take when remodeling your shower, we're sure you'll be thrilled with our results.