Bathroom Renovations That Provide Middleburg Heights, OH, With All the Right Options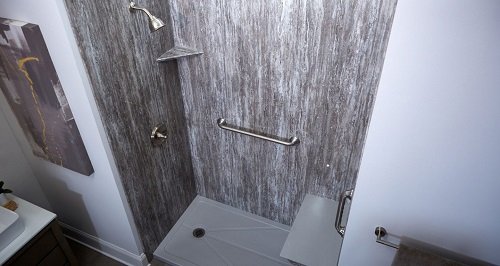 Let's take a quick quiz. To complete a bathroom renovation, you need to:
A) Rip out plumbing and reconfigure major features
B) Spend an exorbitant amount of money
C) Sacrifice the use of your bathroom for weeks on end
D) Be prepared to let workers into your home at a moment's notice
E) All of the above
F) None of the above
While many homeowners in Middleburg Heights, Ohio, may think the answer is E, it doesn't have to be. At Bath Depot Cleveland, we specialize in several affordable bathroom renovations that can be completed quickly and without the need for extensive demolition and reconstruction. Our experienced installation team can remodel your bathroom in as little as a day, minimizing any disruptions to your home and your household's daily routines.
Our Customer-First Approach to Doing Business
As one of the fastest-growing bathroom contractors in the region, our stellar reputation is our best form of advertising. That's why we connect on a personal level with all of our customers, treating them with the same respect and courtesy we would a member of our own family. When you partner with Bath Depot Cleveland, you can expect "The Red Carpet Treatment," a comprehensive, customer-focused approach to bathroom renovations that includes:
An initial consultation with one of our design experts, who will inspect your bathroom, take measurements, and discuss your renovation goals
A variety of beautiful bathing enclosures to choose from, including traditional and walk-in tubs, no-threshold showers, and low-maintenance wall systems made from acrylic, a non-porous polymer that will never chip, crack, rot, or warp for as long as you own your home
Open lines of communication with either our friendly call center or the manager assigned to your project, so you'll always know exactly when our workers will arrive at your home
A bathroom renovation shouldn't be an endurance test of hassles, disruptions, and inconveniences. And when you partner with Bath Depot Cleveland, it won't be. Reach out to us today to schedule a no-obligation consultation at your home in Middleburg Heights, OH, and discover just how easy and stress-free it is working with the region's premier bathroom contractor. We're ready to give you a bathing space you'll love for a lifetime.