A Shower Remodel for Lakewood, OH, Homeowners That Will Leave No Room for Improvement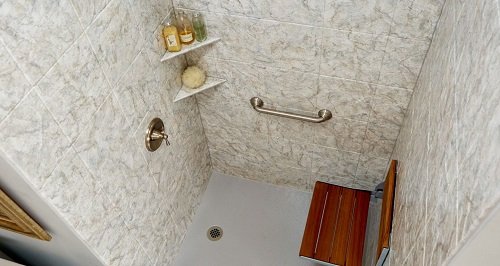 There are many reasons why a shower remodel becomes a priority. Maybe the fixtures need updating and the tiles are cracked. Perhaps the grout has blackened with age or that stain near the drain just won't come out no matter how hard you scrub. Or maybe a recent slip has prompted a reevaluation of what features are most important in a bathing space. At Bath Depot Cleveland, we know a shower remodel is first and foremost a search for solutions. That's why we offer a wide variety of products that can address your renovation needs. We've become the bath authority for homeowners throughout Lakewood, Ohio, and neighboring communities by consistently providing outstanding customer service and superb craftsmanship.
Update, Upgrade, Uplift
As a proud BathWraps dealer, Bath Depot Cleveland is your source for premium bathroom solutions, many of which can be installed in just one day with minimal disruption to your home or daily routines. We can remodel your shower to improve its:
Beauty – BathWraps' gorgeous wall surrounds are made from acrylic, a durable, non-porous polymer that can mimic the look of more expensive materials such as granite and marble for a fraction of their cost.
Functionality – New fixtures and showerheads provide all the water you need to bathe while eliminating the slow drips that can add to your monthly water bills.
Safety – No-slip basins, grab bars, and built-in bench seats are just a few of the features available to create a more confident bathing experience.
Convenience – Low- or no-threshold shower stalls eliminate the need to step over a barrier to bathe, a true advantage for those with mobility challenges or who use a wheelchair.
What's more, we back our shower remodel services with some of the best warranties in the industry, so you'll be able to enjoy your new bathing space knowing it's well protected.
If you're ready to start solving the problems that have made a shower remodel necessary, turn to Bath Depot Cleveland, your established authority for bath remodeling solutions. Contact us today and schedule a no-obligation consultation at your home in Lakewood, OH, to start the ball rolling. When we're finished with your bathroom, there'll be no room for improvement.