Premium Barrier-Free Shower Options for Homeowners in Lakewood, OH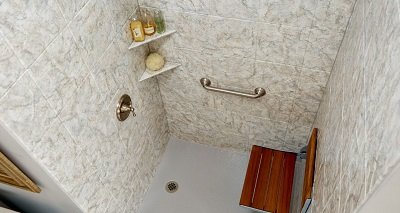 Your bathroom may be the smallest room in your house, but it's also the most dangerous. According to a recent study by the Centers for Disease Control and Prevention, approximately 235,000 emergency room visits each year are due to injuries sustained in the bathroom, and of those nearly 14% require hospitalization. One of the most common causes for bathroom falls is slipping while in the shower or stumbling over the lip of a tub while entering or exiting the bathing enclosure.
Converting your traditional tub/shower combo to a barrier-free shower can greatly improve safety by eliminating the need to step over an obstacle to bathe. What's more, barrier-free showers can be equipped with features such as grab bars, built-in seating, and slip-resistant floors to further enhance safety and improve confidence when maneuvering inside the stall and transitioning in and out of it. At Bath Depot Cleveland, we are the company homeowners in Lakewood, Ohio, can turn to for a premium barrier-free shower manufactured by industry leader BathWraps. These enclosures are custom made to the exact dimensions of your home and available in a wide variety of wall colors, styles, and textures, so you can rest assured your new bathing space will perfectly suit your needs and aesthetics.
The Benefits of a Low- or No-Threshold Shower
Of course, a plethora of customization options is only one of the many benefits BathWraps barrier-free showers have to offer. They are also:
Exceptionally durable, since their wall surrounds are 100% acrylic, an impact-resistant polymer that will never crack, chip, peel, or bister for as long as you own your home
Virtually maintenance free since they are stain-resistant and have no grout, so a quick wipe with a damp cloth and mild soap is all that's needed to keep them looking like new
Hygienic, thanks to the walls and shower pan being infused with Silver Shiled™, a non-toxic additive that permanently hampers the spread of germs
Easy to install, usually requiring only a day or two to transform your enclosure from drab to fab
If you're ready to improve the safety, beauty, and accessibility of your bathroom, reach out to Bath Depot Cleveland today to learn more about our barrier-free showers. One of our representatives will be happy to visit your home in Lakewood, OH, to review options and answer all your questions.