Walk-In Shower Installations Completed by Experts in Homes Throughout Fairview Park, OH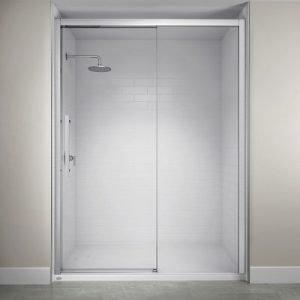 A walk-in shower installed by the experts at Bath Depot Cleveland can completely transform the appearance of the bathroom in your Fairview Park, Ohio, home. The sleek, modern appearance of our showers add a touch of elegance to any space they're installed in, and they can be entirely customized to match your wants and needs. Plus, we can often complete walk-in shower installations in as little as one or two days.
Benefits of Our Walk-In Showers
Walk-in showers have a host of advantages they can bring to your home. Due to their minimalistic design, our showers:
1. Are Extremely Accessible
Bathtubs and traditional showers have high thresholds that can be dangerous for many homeowners. These thresholds make it easier for a dangerous slip and fall to occur, and it can be difficult for those with limited mobility to enter and exit their tub or shower. With a walk-in shower from Bath Depot Cleveland, bathing can be a safer and more hassle-free experience.
2. Make Your Bathroom Space Appear Larger
A bathtub can appear cumbersome and take up a large footprint in your bathroom. With an open and airy walk-in shower, your bathroom will appear larger than it is, and you can have ample room to bathe and move around.
3. Have Minimal Cleaning Requirements
Bathtubs and tub and shower combinations often have many hard-to-reach corners and crevices that can grow mildew and mold. The walk-in showers we install have minimal nooks and crannies for dirt to gather, which makes them a breeze to clean.
Contact Us Today
Do you want the experts at Bath Depot Cleveland to help you with your shower renovation? If so, call us today. We're more than happy to discuss our walk-in showers and answer any questions you may have before we get started upgrading the bathroom in your Fairview Park, OH, home.