For Homeowners in Cleveland, OH, Premium Shower Surrounds Are the First Step in a Thrilling Bathroom Renovation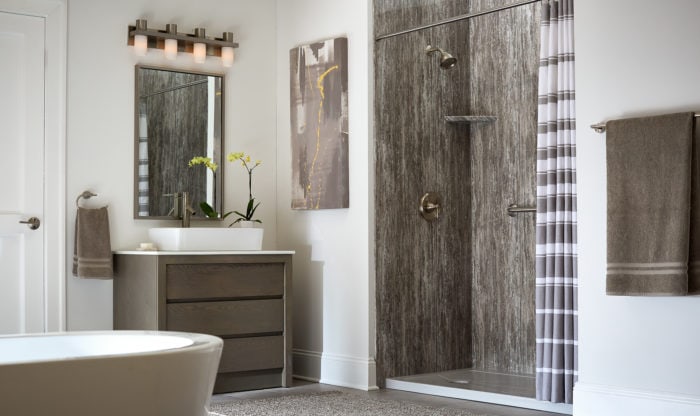 Bathroom remodels have undergone a quiet revolution over the last few decades. Once an invasive and time-consuming project, the replacement of a bathing space can now be completed in as little as one day thanks to modern products, materials, and installation techniques. At Bath Depot Cleveland, we're at the forefront of these advancements and are ready to put our expertise to work for you. As the exclusive dealer for BathWraps® in Cleveland, Ohio, we are the only local contractor homeowners can turn to for the company's extremely popular bathroom products, which have been installed in millions of homes across the country. If you've been dreaming of a new bathroom centerpiece but have been putting it off because you don't want to be without a place to bathe for weeks on end, this is the solution you've been looking for. And it all starts with new shower surrounds.
The Right Material Can Make All the Difference
If you're not sure what shower surrounds are, you're not alone. Many of our customers had only a general notion of what these products were and how they worked. Basically, shower surrounds are three, one-piece wall panels that are fitted together during the installation process. Depending on the condition of your current bathing enclosure, these panels can either be applied over existing walls, or your old tiles and drywall can be removed, new cement board installed, and the shower surrounds affixed to that. BathWraps products are made from non-porous acrylic rather than porcelain or fiberglass. This provides several advantages, including:
Affordability – These acrylic shower surrounds are less expensive than most of the alternatives and can convincingly mimic the look of pricier options such as marble, granite, slate, and travertine.
Ease of maintenance – Since acrylic is non-porous, it doesn't provide a place for mold and mildew to grow. And because the walls are all one piece, there's no grout that can blacken over time. Just a quick wipe from a damp cloth is all that's needed to keep your bathing enclosure looking great year after year.
Enhanced hygiene – BathWraps shower surrounds are infused with Silver Shield™, a non-toxic additive that uses silver ions to prevent the spread of bacteria.
Plenty of customization options – You'll be able to tailor your new enclosure to perfectly suit your needs. Choose convenience accessories like built-in corner caddies and soap dishes, as well as safety features like grab bars and bench seats.
Shower Surrounds Are Just the Beginning
Of course, a bathing enclosure is more than just three walls, a faucet, and a showerhead. Bath Depot Cleveland specializes in several renovations that can transform your bathroom into an oasis of luxury, relaxation, and rejuvenation.
Tub replacements
If you like your current tub/shower combo, we can remove your old, battered tub and replace it with a brand-new model made from the same non-porous acrylic as the shower surrounds. Whether you're looking for a standard tub, a deep soaker, or a jetted model, you're sure to find one that perfectly suits your aesthetics as well as your needs.
Tub-to-shower conversions
Maybe you prefer showers rather than baths. Why not swap out your tub/shower combo with a sleek, modern, low- or no-threshold shower stall? As mentioned above, you'll be able to tailor your enclosure to make it your own. And a stall eliminates the need to step over a barrier to bathe, improving accessibility for those with mobility limitations, and enhancing safety for every family member that uses it.
Walk-in tubs
If you'd rather kick back and relax in a soothing bath but find it increasingly difficult to step over the side, a walk-in tub may be the way to go. With its watertight door, entering and exiting a walk-in tub is as easy as stepping from one room to the next. All models feature hydrotherapeutic jets and bubble massage, and luxury models boast chromotherapy and aromatherapy systems, allowing you to create a truly spa-like bathing experience.
To learn more about our shower surrounds and bathroom renovation options, contact Bath Depot Cleveland today. We're the company you can turn to for one-day bathroom renovations in Cleveland, OH, and neighboring communities.