Unrivaled Shower Installation Services for Homeowners in Cleveland, Ohio, and Neighboring Communities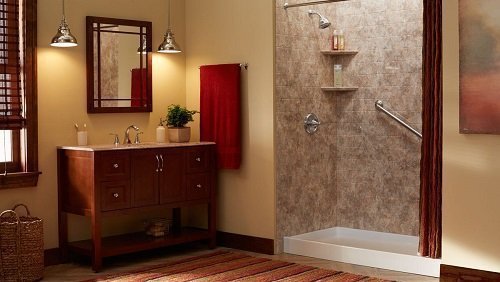 Has your shower seen better times? Is your tub a tired relic from the days before colored television? If a bathroom renovation is long overdue at your home, the company you can count on for expert shower installation services is Bath Depot Cleveland. As the exclusive BathWraps® dealer in the Cleveland, OH, area, we are the only local contractor who offers these innovative, grout-free bathing enclosures. Renowned for their beauty, durability, and value, BathWraps showers set the bar when it comes to transformative bathroom renovations that don't require weeks of demolition and reconstruction. In just one day, your bathroom could go from drab to fab. That's not an empty promise or marketing ploy to lure in new customers. We back that pledge with an unshakeable commitment to providing the very best products and shower installation services for everyone who entrusts their home with us.
The Initial Consultation
When you reach out to Bath Depot Cleveland to learn about our shower installation services, you'll be encouraged to schedule a no-obligation consultation with one of our designers. This will be an introductory chat, not a high-pressure sales pitch. Our representative will:
Inspect your bathroom and discuss what you want to accomplish with your remodeling project
Review all of the products available for your renovation and work with you to select the perfect combination of features that will provide the best bathing experience possible
Accurately price your project based on your selections
Provide information on the financing plans we offer qualified customers
Answer all of your questions in detail
And then we'll give you the time you need to think things over. If you decide to move forward with your project, we'll set things in motion. First, your new bathing space will be custom fabricated by BathWraps to the exact dimensions of your bathroom, thus ensuring it will fit your bathing enclosure like a second skin. Once all the components arrive, we'll schedule a day and time for the work to be done that's convenient for you.
The Installation Process
Every part of the shower installation process will be handled by our in-house team of factory-trained technicians. We never use subcontractors. And our commitment to treating your home with the utmost respect will be on display through every step of the renovation. Our installers provide what we like to call the "Red Carpet Treatment" for our customers. From rolling out a tarp in the driveway to catch any falling debris, to providing our own doormats and wearing protective booties inside your house, our goal is to keep the worksite safe and tidy from beginning to end.
The BathWraps Advantage
Once your shower installation is complete, you'll enjoy all the benefits offered by these popular bathing enclosures. BathWraps showers feature acrylic wall surrounds and bases, so you can be confident they will never rot, chip, crack, or peel for as long as you own your home. And since the walls are grout-free, they won't provide a place for mildew to grow. That means you can say goodbye to laborious scrubbing and the use of harsh cleansers to keep things looking spiffy.
But the benefits don't end there. Your new shower will also be infused with Silver Shield™ anti-microbial protection. This non-toxic additive uses silver ions to hinder the growth of germs so your bathing space will remain hygienic for years to come. And since BathWraps' showers can be accessorized with numerous safety and convenience features such as grab bars, no-slip floors, bench seats, and built-in storage, you'll be able to customize your bathing space to perfectly suit your needs.
So, what are you waiting for? Reach out to Bath Depot Cleveland today and take the first step toward your bathroom Renaissance. And if you're interested in financing your shower installation, be sure to ask about options available to qualified Cleveland, OH, customers.