A Shower Remodel Is a Great Way for Cleveland, Ohio, Homeowners to Transform Their Bathrooms Quickly and With Minimal Disruption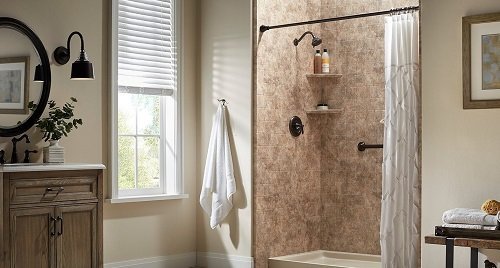 For homeowners in Cleveland, OH, a bathroom makeover doesn't have to be a long, drawn-out project requiring the demolition of walls, the rerouting of plumbing, or the reconfiguration of fixtures. In fact, in many cases a bathroom can be dramatically transformed with just a shower remodel. At Bath Depot Cleveland, we specialize in bathroom renovations that can be completed in as little as a single day, thus minimizing any disruption to your household's daily routines. As the exclusive BathWraps™ dealer in northeastern Ohio, we are the only company homeowners can turn to for the immensely popular line of bathroom renovation products. And once your bathroom upgrade is complete, you'll understand why so many people are singing the praises of their BathWraps bathing space.
More Options Than You May Have Realized
When you partner with Bath Depot Cleveland for a shower remodel, your home improvement project will begin with a no-obligation consultation. One of our experienced design specialists will visit your home to inspect your bathroom, take detailed measurements, learn about your remodeling priorities, and review all of the many options that are available to achieve your goals. We'll then work with you to create a plan that perfectly expresses your tastes and fits your budget. We can perform any of the following shower remodels for you:
Tub and shower replacements
If you have a traditional tub/shower combo and are happy with that configuration but fed up with the scratched and stained basin, the grungy tiles, and the blackened grout, this may be your best option. We can either replace your old tub with a brand new, stylish model or add a tub liner over your existing tub, giving it a facelift that will dazzle from day one to day 1000—and longer! We'll also add new fixtures and grout-free wall surrounds to complete your bathing enclosure.
Tub-to-shower conversions
Are you planning to age in place? You may want to consider ditching your tub altogether and replacing it with a low- or no-threshold shower stall that will eliminate the need to step over a barrier to bathe. These aren't the drab, no-frills showers from your high school locker room. Our barrier-free showers are the epitome of beauty, convenience, safety, and modern elegance. You'll be able to choose from a wide variety of wall styles that mimic the look of expensive and hard-to-maintain materials such as marble, granite, shale, and travertine. You'll also be able to accessorize your shower remodel to perfectly suit your needs. Grab bars, corner caddies, bench seats, and shelving are just some of the available amenities.
Shower-to-walk-in tub conversions
But what if you don't want to give up your long soaks in a relaxing bath? Fear not! We can replace your tub/shower combo with a luxurious Jacuzzi® walk-in tub. A waterproof door makes entry and exit a breeze, but that's just the beginning of what these bathing enclosures have to offer. Jacuzzi walk-in tubs feature patented hydromassage jets that will invigorate, soothe, and relax in equal measure. Easy-to-reach controls are designed so you never have to stand to adjust the settings. And Jacuzzi's fast-drain technology means you won't have to wait more than two minutes to exit after your bath is over.
Say Goodbye to Grime
Once our experienced installation team has completed your shower remodel, you'll be able to enjoy a pristine new bathing enclosure that has been customized to meet your needs. What's more, since the wall surrounds are made of 100% virgin acrylic, a durable, non-porous material, they will:
Clean up easily, without the need for protracted scrubbing or the use of harsh chemicals
Resist the growth of mold and mildew and hinder the spread of bacteria
Never chip, peel, blister, or warp for as long as you own you home
If you're ready to breathe new life into a tired and outdated bathroom, we're ready to help. Contact the renovation experts at Bath Depot Cleveland today to learn more about our shower remodel services. And be sure to inquire about the many financing options available to qualified Cleveland, OH, homeowners.